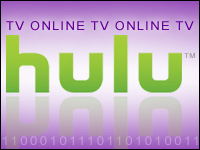 DirecTV and two other unidentified bidders are offering upwards of US$1 billion to buy Hulu, according to multiple press accounts.
DirecTV could possibly be planning to add Hulu's digital offerings to its TV packages.
Hulu offers both free and paid content, with about 4 million subscribers to its premium Hulu Plus service. Together, ads and fees generate revenue of about $700 million per year for the company.
Walt Disney and News Corp., Hulu's owners at the time, reportedly tried to sell it at auction in 2011, but the attempt didn't go anywhere.
This time around, the owners — which now include Comcast — reportedly are discussing the current offers and could make a decision about a buyout in three to four weeks.
Neither Hulu nor DirecTV responded to our request to comment for this story.
Next Step for Hulu
In a digital media landscape where consumers are watching a wider variety of content far away from their living rooms, Hulu would be an appealing buy for an established TV or media operator that is looking to expand its digital offerings.
"Hulu is a great company with good content but it's not a disruptor," said Jose Alvear, research analyst with GigaOM Pro.
"The company is owned by content owners so it plays very nicely with everyone," he told the E-Commerce Times. In other words, Hulu is more of a tool of content owners and advertisers more than it's a site for viewers and lovers of TV shows."
That model has been enough to keep Hulu alive, but a buyout or partnership is probably the logical next step for the company as it figures out its place in an evolving industry, said Paul Zagaeski, analyst at Multimedia Research Group.
"Hulu must be acquired, I believe," he told the E-Commerce Times.
"The founding partnership was very experimental and is too unstable to continue long term. The industry evolution continues to be very experimental and exploratory," Zagaeski explained, "although there is a bit more urgency every quarter, as data starts to show subscriber growth for cable and satellite slowing — and mobile device sales, online video traffic, and viewing on mobiles accelerating."
Finding the Best Fit
If talks are indeed under way, it's unknown which other parties may be engaged in those discussions. Yahoo and Time Warner Cable are frequently mentioned in press accounts as possible buyers, though.
Yahoo is laboring in a turnaround effort to regain stature in the consumer Internet space, noted Dan Rayburn, principal analyst at Frost & Sullivan.
However, its strategy appears focused on bolstering its original content offerings — as evidenced by recent moves such as the purchase of blogging platform Tumblr or the content deal with WWE — placing Hulu outside of Yahoo's current comfort zone, he observed.
"It certainly doesn't seem like a fit for Yahoo right now," Rayburn told the E-Commerce Times. "Yahoo doesn't have a clear business model right now, but they are trying to work more towards original content, which isn't really what is driving Hulu right now."
The speculation surrounding DirecTV's interest in Hulu makes more sense, said GigaOM Pro's Alvear. Since the satellite operator is already working on expanding its TV offerings, a Hulu partnership or buy could add to its business model rather than confuse it.
"It gives DirecTV access to all of its existing content [and] user base — and reach into new devices like smartphones, tablets and game consoles," Alvear pointed out. "That's something that DirecTV doesn't have much of right now. DirecTV may be able to use Hulu to distribute some of its on-demand or multiscreen TV also."
Trimming the Price Tag
For all its potential advantages for DirecTV or another similar company, though, Hulu isn't a steal at the $1 billion price tag, said Zagaeski.
"Hulu has about 4 million paying subscribers, so quick math says DirecTV would be buying subs at $250," he observed. "It would take two years to pay back the acquisition cost per subscriber from direct revenue — forget about profit. So the only rationale is to position DirecTV for the post-bundled content era, and that's a lot to pay for a seat at the table."
Factored into Hulu's price would also have to be the cost of licensing content, which is only growing more expensive as more digital entertainment fans emerge, said Alvear.
"DirecTV would have to continue to negotiate rights with content owners to keep its large stable of networks and TV shows with Hulu, and spend lots of money to do so," he noted.
That doesn't mean Hulu won't get scooped up eventually, said Alvear, but it might not be in a high-profile, costly acquisition like the ones currently rumored.
"The TV industry is clearly changing, but it's a slow change," he added. "I think we'll see more and more content delivered as on-demand in the future, so Hulu or other online catch-up TV sites will be very important. Hulu also has an advantage because it [delivers] more targeted advertising to its users. There's not quite a revolution of how TV is being consumed and distributed, it's more of an evolution — slow and steady changes over a long period of time."