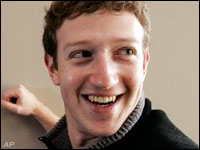 The California State Teachers' Retirement System has a gripe about the makeup of Facebook's board of directors: It is too small and too male. In fact, there are no women on the board.
"We believe that investors and the company would benefit from a larger, more diverse board," CalSTRS corporate governance director Anne Sheehan wrote to Facebook founder and CEO Mark Zuckerberg.
The Revolt of the Pension Funds
CalSTRS, the second largest pension fund in the U.S., is an institutional investor that carries some weight in corporate America. In general, pension fund shareholders have been becoming more demanding about the governance practices of companies in which they invest. For example, two pension funds have made numerous requests of various companies to allow shareholders to vote on whether a company's auditor should be replaced every five years. No response has been forthcoming, according to a report in The Wall Street Journal, but the fact that they even made the request at all is startling.
CalSTRS has zeroed in on one complaint other critics have been making about Facebook's board: its clubby nature and the level of CEO Mark Zuckerberg's control.
Will It Work?
Whether CalSTRS' very public nudge will result in a more diverse Facebook board remains to be seen.
Despite the penson fund's clout, chances are Facebook won't be influenced to make any changes, Gayle Mattson, principal of DHR International, told the E-Commerce Times.
"As long as a company is doing well, people don't care about the board or whether it is diverse, and don't care if the CEO has too much control," Mattson maintained. "They only care about return to the shareholders."
Facebook is clearly doing well now, she said, so it is unlikely it will bow to pressure — or that other shareholders will link arms with CalSTRS on that score.
However, uncertainty over leadership succession is troubling to CalSTRS and other shareholders, Mattson said. "There is no balance — this is a weak board with a very strong CEO. Zuckerberg has the imperial right to appoint his own successor."
Another worrying indicator is that "it looks as though Zuckerberg expects to use the board to bounce ideas off of or gain perspective on an issue — but not seek approval for new initiatives or changes in strategy," she added.
In short, Facebook's board will function much as one does in a privately held company.
"There are many competent women and minorities in the tech arena that would have an understanding of what the company is doing and could add value to the board," Mattson pointed out. "But instead, Facebook has created a very unbalanced — a very CEO-centric — company."
The Best of Both Worlds
Facebook's corporate structure allows Zuckerberg to enjoy the best of two worlds — a public company's access to capital and a private company's iron grip on decision making, James E. Post, a professor of management at Boston University, told the E-Commerce Times.
"Facebook, the company he controls, will soon go public, which means it will receive an estimated (US)$5 billion in exchange for shares of its stock. Investors have been in a lather for years, trying to convince Mark Zuckerberg to share wealth and give them a chance to cash in on frothy Facebook shares," he noted.
Facebook shares will be available for a handsome price — but with very few rights to anything else in terms of company control, continued Post.
"CalSTRS is right to raise questions about diversity and voice," he said. "But the fact is that neither CalSTRS nor any other investor is going to stop this money train."
Facebook and CalSTRS did not respond to our requests to comment for this story.