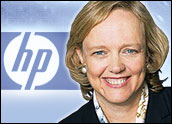 HP shareholders counting on Meg Whitman to lead the company into a quick turnaround received very disappointing news from the CEO: Don't hold your breath.
Whitman made her comments at HP's annual analyst meeting. The company is on track for a turnaround, she reportedly said — but it won't materialize until the end of fiscal year 2014. The bottom line: HP anticipates revenue declines of 11-13 percent in fiscal 2013 with operating margins of 0-3 percent. Specifically, the company estimates non-GAAP diluted earnings per share for fiscal 2013 to be in the range of US$3.40 to $3.60, and GAAP diluted EPS for fiscal 2013 to be in the range of $2.10 to $2.30.
By 2016, however, Whitman expects the company's revenue to be growing in line with gross domestic product, while operating profit will be growing faster than revenue.
HP declined to provide further details.
Writing on the Wall
This dour news was foreshadowed in HP's last earnings call, Andreas Scherer, managing partner of Salto Partners, told the E-Commerce Times.
The company posted dreadful numbers, reporting an $8.86 billion loss for its third fiscal quarter, which ended July 31. For the previous three months, it took in net revenue of $29.7 billion, down 5 percent year over year and down 2 percent when adjusted for the effects of currency.
"A few months later, Whitman now concedes we are not talking about a bad quarter or two," Scherer said. "We are talking about bad fiscal years ahead perhaps until 2016, which is light years in the tech industry."
In short, HP is in a real predicament.
"For many moons, the company could rely on their personal computer and printer divisions to make the numbers," Scherer noted. "Those days are gone. Now, we buy smartphones and tablet computers. Unfortunately, there is not one product division that really outperforms the market. Their enterprise service business struggles."
Whither Whitman?
The bleak outlook casts a shadow over Whitman's leadership — does she have what it takes to execute a turnaround?
The question may not be altogether fair. Whitman has been at the helm roughly a year, trying to solve problems that were long in the making. Still, CEO time — especially at troubled companies — runs faster than for most people. After a year in charge, "she won't be able to disassociate the company performance from her own," Scherer said.
Still, Whitman has an enviable reputation in the business community, which might buy her more time, EnterpriseDB CEO Ed Boyajian told the E-Commerce Times.
"Meg's considered by the industry to be a solid, trusted leader who knows how to succeed. She's got a tough challenge ahead, primarily because of decisions that were made before she came on board — like the acquisition of Autonomy for $12 billion.
So far, she's made some good decisions, Boyajian said. "Keeping the PC business and integrating it with the printer business makes good sense. Their real turnaround needs to come from their enterprise business though, which is evolving to meet the demands of today's business."
Where Should HP Go?
Indeed, there is no dearth of advice for HP as it scrambles to reposition itself.
PCs are not the hot items anymore, observed Bruce White, professor of computer information systems at Quinnipiac University. "Will companies still need PCs? Yes. Will they be a source of high income and growth in the technology field? No."
Printers are still needed and are still a profitable line for HP, he told the E-Commerce Times, "but with more electronic methods and more e-commerce, there are less invoices physically printed and mailed and more sent by email or EDI."
White favors an emphasis on services for HP.
"You don't deal with the whims and changing views of the public," he noted, "but you deal with corporate IT staffs."
IBM revitalized itself as a service company, White pointed out, and "HP can do that as well."