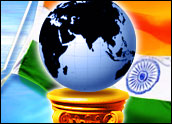 HP unveiled two new mobile devices Wednesday that are set to launch in India as the company attempts to gain traction in the global mobile market.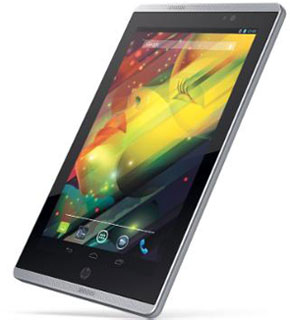 The 6-inch HP Slate6 VoiceTab and the 7-inch HP Slate7 Voice Tab are considered phablets — that is, hybrids that combine smartphone and tablet features. Both will run on Android 4.2, and both have HD front and rear cameras, stereo speakers, and 16 GB of storage. The 6-inch device comes with a 720p display and the 7-inch features a 1280 x 800 display.
The devices are designed to help consumers who needed to multitask on the go, HP said, as well as those looking to consolidate their phones and tablets.
The company did not release specifics about pricing, but did say the new devices would be a "great value."
The product launch is an important one for HP as it continues to compete with mobile powerhouses like Apple and Samsung, said Ramon Llamas, senior research analyst with IDC Mobile Devices Technology and Trends.
"HP has to get back into the mobility scene — period," he told the E-Commerce Times.
Not Trying to Stand Apart
The new HP phablets won't stand out from the crowd for their functionality, said GigaOM analyst Colin Gibbs.
"The devices HP plans to release in India aren't exactly cutting-edge, and they don't appear to have any eye-popping features, but they are full-featured voice tablets with solid specs," he told the E-Commerce Times.
While HP is testing out an emerging market like India, offering standard features is OK. The more critical element will be pricing, said Llamas.
"The price points are going to make a big difference here, because it could be difficult for consumers to justify spending on a large screen device as well as a monthly data plan," he pointed out.
"That is an indication that HP is going to go after the enterprise users in India, which could be successful but isn't exactly a slam dunk," Gibbs said.
"If HP can bring unlocked, off-contract tablets to market in the range of US$200 to $250, I think HP can do fairly well," he suggested. "India is a massive smartphone market, and HP doesn't have to grab a huge market share to sell a lot of devices."
Into India
HP's decision to market the phone in India is likely a wise strategy. It will allow the company to gain traction in an emerging market without having to compete against the iPhones and Galaxy phones flooding the U.S. consumer market, said Gibbs.
"HP's failure to tap the smartphone market has been well documented, but I think the company is wise to look to India to get back in the game," he added.
"India will be a huge smartphone market for at least the next few years, second only to China. HP can't afford another misstep in the U.S., where competition is cutthroat — but even if it fails in India it can regroup, develop new devices, and try again in other markets," Gibbs explained.
If HP's India initiative ultimately should prove unsuccessful, it likely would regroup in new markets similar to India, said Llamas.
"It could be that this is a trial for other emerging markets," he speculated. "It's not a good litmus test to see if it can compete in the U.S. or Western Europe, but it could be that this is a strong first step in seeing how HP can do in a market where the smartphone and tablet market isn't saturated yet. We'll have to see."