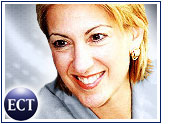 Hewlett-Packard (NYSE: HWP) rose US$1.78 to $31.03 in morning trading Wednesday, even after lowering its outlook for the second quarter ending April 30th and announcing plans to cut as many as 3,000 management jobs.
Instead of deferring salary increases past a 90-day period put in place in the first quarter, Hewlett-Packard said it will keep expenses under control by tightening discretionary spending, requiring employees to take days off and cutting the management jobs.
Fiorina said there is "limited visibility" about the rest of the year, though current projections call for third-quarter revenue to be about even with the second quarter.
The Palo Alto, California-based computer maker said that revenue for the fiscal second quarter will be 2 to 4 percent below year-earlier and first-quarter levels, due to "rapid deterioration in consumer information technology spending around the world." Currency exchange rates also hurt results, Hewlett-Packard said.
Earnings per share will be 13 to 17 cents, including $150 million of writedowns for consumer product inventory, according to Hewlett-Packard. Analysts had expected the company to earn 35 cents per share.
"It is quite clear that the U.S. downturn in the consumer market is now spreading to other regions, notably Europe," said Hewlett-Packard chairman, president and chief executive officer Carly Fiorina.
"Recent European PC market data suggests the European slowdown is beginning to mirror the pattern we saw in the U.S. — growing softness in the retail sector and increasingly competitive pricing moves, followed by a more subtle but just as meaningful slowdown in the enterprise space," Fiorina said.
Hewlett-Packard said that its enterprise business is showing "a slight improvement," and revenue from that division is likely to be "flat or up slightly" from the first quarter.