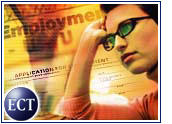 HotJobs.com (Nasdaq: HOTJ) picked up 75 U.S. cents to $6.15 in morning trading Thursday, after the online recruiting services company reported a narrower loss for the first quarter and said that it will post an operating profit sooner than previously expected.
The New York City-based company reported an operating loss of $6 million, or 16 cents per share, for the quarter ended March 31st, with revenue rising 142 percent from a year earlier to $33.6 million.
The loss is smaller than both the 17 cents predicted by analysts and the 38 cent operating loss recorded in the year-earlier quarter.
HotJobs posted a net loss of $13.6 million, or 37 cents per share, compared with a loss of $11.4 million, or 31 cents a year earlier. Latest quarter results included a $3.3 million charge for job cuts announced in March, a $4 million non-cash goodwill amortization charge for the acquisition of Resumix, and a $400,000 non-cash compensation charge for stock options.
HotJobs also moved up the timeline for profitability, saying that it expects to move into the black on an operating basis in the third quarter of this year, one quarter earlier than previously thought.
Acting president and chief executive officer Dimitri Boylan said that the company's focus on "core revenue drivers" and expense control will enable HotJobs to achieve that goal.
Chief financial officer Lowell Robinson added that HotJobs "achieved solid top-line growth despite a challenging economy." Operating expenses declined from 104 percent of revenue to 98 percent in the quarter, he said.
"We expect continued reduction in our total operating expenses over the next several quarters as a result of the first-quarter restructuring initiatives, as well as ongoing cost-saving measures," said Robinson.
HotJobs said that it expects second-quarter revenue to be 6 to 8 percent below the first quarter's $33.6 million, but up 38 to 41 percent from a year earlier. The company predicted a loss for the quarter of 86 cents per share, 6 cents better than previously thought.
Full-year revenue will total $125 million to $129 million, lower than previously thought, because of "the challenging economic environment," HotJobs said. The company predicted a loss of 20 to 22 cents per share, before non-cash compensation and other charges.