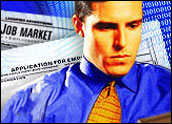 HotJobs.com gained 10 U.S. cents to $3.90 inmorning trading Monday, after the Internet recruitment company announced analliance with Australia's News Corp. (NYSE: NWS) to create an online jobsboard in Australia and New Zealand.
Hot Jobs, based in New York City, said that its software will power the newbusiness, which will be run by News Corp.'s CareerOne online recruitmentunit. HotJobs will develop, host and maintain the Web site, and CareerOnewill handle advertising, sales and customer service.
Terms of the agreement were not disclosed.
Lachlan Murdoch, News Corp.'s deputy chief operating officer, said that the alliance will create "one of the largest online job and resume databases inAustralia."
Added Dimitri Boylan, HotJobs' acting president and chiefexecutive officer: "Both applicants and recruiters will benefit from the broader audience reachas well as the editorial content offered by News Corp.'s family ofnewspapers."
In the United States, HotJobs has felt the effects of a weakening economy.In February, the company predicted that revenue for the first quarter endedMarch 31st would be just 3 to 4 percent above the $31.5 million posted inthe fourth quarter, with a loss of about 17 cents per share before non-cashcompensation charges and amortization of goodwill.
HotJobs has also cut about 15 percent of its staff since the start of theyear, and expects a $2.5 million to $3 million charge to first-quarterearnings to cover costs associated with the layoffs.
Boylan, who had been the recruiting firm's chief operating officer, tookover as interim president and CEO on March 1st, when founder, president and CEORichard S. Johnson resigned. Johnson remains chairman, focusing on new markets and strategic development for the company.
HotJobs said that its online employment exchange is used by more than 9,100companies. The company also offers services such as job-applicant trackingsoftware and a business-to-business (B2B) exchange for corporate hiring managersand staffing firms.