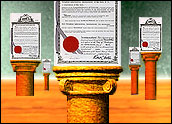 The Supreme Court on Monday heard arguments in Bilski v. Kappos, a case that has been making its way through the legal system for more than 10 years — and along the way has morphed into the software industry's worst nightmare.
"It's been called 'the case of the century,' and to a large extent I have to agree," John Squires, an attorney with Chadbourne & Parke, told the E-Commerce Times. "It could turn around centuries of law established by Congress that cuts across every industry. There is a lot at stake."
In 1997, Bernard Bilski and Rand Warsaw applied for a patent on a process to hedge weather risk in commodities. The Patent Office denied the claim on the grounds that it was too abstract.
The U.S. Circuit Court of Appeals for the Federal Circuit upheld that decision last year. A process is only eligible for a patent if it is "tied to a particular machine or apparatus" or if it "transforms a particular article into a different state or thing," the court ruled — a test that Bilski's process did not meet.
The Supreme Court heard arguments that addressed two issues, noted Eileen M. Herlihy, associate professor of law at New England Law.
The first was whether "a process must be tied to a particular machine or apparatus, or transform a particular article into a different state of thing — the so-called machine-or-transformation test — to be patentable," she said.
It also considered "whether the Federal Circuit's machine-or-transformation test for patent eligibility — which effectively forecloses meaningful patent protection to many business methods — contradicts clear Congressional intent that patents should protect methods of doing or conducting business," added Herlihy.
Tech Industry Fears
Depending on the Court's decision and the grounds for it, there is potential for significant upheaval regarding what types of patents may be granted in many industries.
"Business-method patents" can range from financial strategies, risk management techniques, teaching methods — even novel ideas such as speed dating. In particular, they are integral to the software industry, Barry Cohen, an intellectual property attorney withThorp Reed & Armstrong.
"Many business methods are central to software which may not be tied to a particular machine," Cohen told the E-Commerce Times. "If upheld by the Supreme Court, many software-related valuable patents would be invalidated, which would be disastrous for the value of many tech-related companies."
That could happen. These types of patents and the philosophy behind them have evolved without direct guidance from the Supreme Court, which is finally weighing in on the issue.
"The Supreme Court has not decided a case on this topic for over 25 years," observed Herlihy.
Interestingly, the tech industry is not presenting a united front on the case, Douglas Goldhush, an intellectual property attorney with Squire Sanders, told the E-Commerce Times.
"It isn't a matter of small tech businesses wanting it to be decided one way and the large companies another," Goldhush pointed out. "For example, IBM is hoping for a restrictive view, while Microsoft would like to see the Supreme Court take a more expansive view of patenting."
In short, "this is not a simple issue from anyone's perspective," he said.
Engaged Court
Given the stakes, it is not surprising that the Justices were "incredibly engaged" during the oral arguments, Stuart Meyer, a partner with Fenwick & West, told the E-Commerce Times.
In fact, Meyer was "shocked" by the level of concern the Justices expressed over how far-reaching the impact of their decision might be.
"The nature of the questions suggested to me the court is very interested in making sure they don't elevate form over substance with a decision," he said.
The Justices were very engaged in the debate, commented Erika Harmon Arner, an associate with Finnegan and second chair for the petitioner at the oral arguments.
"Nearly everyone had a question … What should be patentable? What is the purpose of the Patent Act? Why do we grant patents in the first place?"
As for which direction the Supreme Court was leaning after the arguments were complete, "it's impossible to tell from an oral argument," Arner said. "Oftentimes, a decision is based on the briefings that are filed."
Still, conjectures are plentiful.
Rejection of Bilski
"The rejection of the Bilski patent is likely to be affirmed," Larry Hadley, a partner with Hennigan Bennett and Dorman, told the E-Commerce Times.
"The justices seemed unanimous in their skepticism that the Bilski method of hedging consumer transactions could fall within the scope of patent-eligible subject matter," he said.
Whether the Supreme Court does something more drastic is anyone's guess, Hadley continued.
"Some justices seemed inclined to say that business methods in general should not be patentable," he said. "Others seemed to find no real problem with the Federal Circuit's machine-or-transformation test. Chief Justice Roberts seemed to reject the notion that anything could be patentable by just tying to it a machine — suggesting the Federal Circuit's test may be too lenient. Yet other questions seemed to suggest that the Federal Circuit's machine-or-transformation test might be too extreme or rigid — wrongly taking some innovations outside the scope of patentable subject matter."
The government seemed determined to protect patents for software innovations and medical diagnostics, noted Hadley, advocating against making the test more stringent than the Federal Circuit did.
Tough Test
It is a difficult test to craft.
"Everybody — Bilski, the Patent Office, and the Justices — agreed that there are certain exclusions from patents: laws of nature, natural phenomena, and abstract ideas," said Stephen T. Schreiner, a patent attorney with Goodwin Procter.
The difficulty in the case of process patents — particularly business method process patents — is deciding on what generally should be included in the realm of what is patent-eligible.
Even more difficult, he continued, is what kind of test can be used to determine in specific cases whether an invention is "in" or "out."
"There was considerable concern among everybody that the machine-or-transformation test might not be up to the task — it may not be clear enough, and it lacks definition," Schreiner told the E-Commerce Times. "It may be a blunt tool that continues to let in undesirable patents while filtering out important patents — something that Justice Sotomayor clearly was concerned about."
Happy Medium
In responding to the two arguments, the Supreme Court may well split the difference, suggested Joe Lancer, a patent attorney at Seyfarth Shaw.
"While it is unlikely that the Supreme Court will grant carte blanche patent protection to mere ideas and thoughts such as those that have been covered by some pure-business method patents over the years," Lancer told the E-Commerce Times, "it is hopeful that the Supreme Court will recognize the need for patentable protection of creative and innovative inventions — notwithstanding that those inventions may not be able to be tied to a physical apparatus or structure, as required by the Federal Circuit's holding."