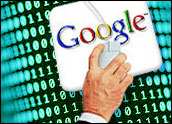 Google has introduced a feature that gives advertisers another bite at the apple — that is, it gives them another shot at potential customers who interacted with their company somewhere on the Google Content Network but didn't make a purchase.
Google is calling the feature "remarketing." Introduced last year in a beta test, it is now available throughout its advertising network, including on YouTube.
To explain how the program works, Google offered the example of a basketball team with tickets to sell. The team would place a piece of code on the tickets page of its Web site. People who visited the site would then be shown ads for the basketball team on other sites in the Google Content Network — say, ads for discounted tickets or last-minute sales.
The feature offers advertisers flexibility in crafting their campaigns: Marketers can run several remarketing campaigns at the same time, targeting consumers with different messages depending on which page of a Web site they visited.
Or they can use the remarketing feature in conjunction with a search campaign. After driving traffic to a site with search ads, a company can then target potential customers with tailored ads as they visit sites elsewhere on the Google Content Network.
Not a New Concept
Remarketing, or "retargeting," as it is sometimes called, is not new in the ad space, Jarvis Coffin, CEO at Burst Media, told the E-Commerce Times.
"It is something that we offer — but the fact that Google is rolling this out throughout its entire network is very significant for advertisers," Coffin said.
There is an element of chance to it, as it has the potential to annoy users if an advertiser goes overboard, he added — not to mention the fact that it is based on the concept of trying to sell to someone who has already rejected you once.
"With all advertising, there is the law of diminishing returns," remarked Coffin. "After a while, it doesn't make sense anymore to keep trying."
Underutilized Option
However, there is ample evidence that marketers don't persist long enough. Retargeting is an underutilized online marketing technology, according to a survey released at the end of last year by Advertise.com and the Search Engine Marketing Professional Organization (SEMPO).
Nearly half, or 46.3 percent, of specialized marketers in the survey said the technique was underused. For those marketers who have tried using it — only 31 percent in the survey — a majority (53.1 percent) said it delivered a greater impact.
It makes sense to continue marketing to people who have shown a predisposition to your product, Coffin said. "If someone is shopping for a car, they will want to see auto-related ads or research, even if they are at another site."
Futile Effort?
Others are not so sure.
"This is the second time around you are presenting a message to the user," Sergio Alvarez, COO of Ai Media Group, told the E-Commerce Times. "The first time around you gave them your 'A' game — your best shot or presentation."
On the other hand, remarketing is a way of reminding consumers who are undecided, he added.
All of these subtleties mean users should monitor and test all campaigns to make sure they are effective, Alvarez said. "The bottom line is, are these campaigns increasing the number of widgets, or whatever, sold?"