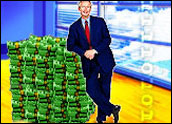 Now is a good time to be a startup looking for funding, suggests the Halo Report, which provides data and identifies trends affecting early stage entrepreneurs and investors. Angel Resource Institute, Silicon Valley Bank and CB Insights collaborated in the development of the report.
Most notable among its findings: The median round size for angel group investments grew to US$700,000, an increase of 40 percent over 2010. In fact, the Halo Report found that many deals were syndicated among investors, giving companies access to even larger amounts than in the past.
"The increase in round sizes is mirroring what is happening with venture money, which is focusing on early seed investments," Anand Sanwal, CEO and cofounder of CB Insights, told the E-Commerce Times.
The most active angel groups, according to the report, were Tech Coast Angels, Band of Angels, Golden Seeds, Central Texas Angel Network and Launchpad Venture Group.
A Good Week
One company that benefited from the trend toward larger round sizes is Social Rewards, developer of a social loyalty platform. Last month, it closed on an oversubscribed seed round totaling $600,000 — and at the end of the process was turning away investors, according to CEO Joseph Morin.
"Needless to say it was a good experience," he told the E-Commerce Times, particularly as the bulk of the seed round was comprised of funding by members of Tech Coast Angels. One of the company's funds has a seven-day policy — that is, it will approve or reject an applicant in seven days.
"We made our pitch on a Monday, and the next Monday they notified us that we had been unanimously approved," Morin said. It secured $100,000 alone from that one fund.
Geographic Diversity and Other Trends
There were, in fact, a number of trends in the report that may be surprising to the angel investment community, CB Insights' Sanwal said.
"The increased funding round size was one," he said. "Another was the geographic diversity in the investors."
California led in deals and dollars among the individual states. However, 79 percent of angel group investments were in companies outside of California, and 70 percent of total funding was invested outside of California.
"A lot of markets where these groups are active aren't traditional hubs for venture capital," Sanwal said. "The southeast did pretty well — and from a venture capital standpoint, it is not a place where we usually see a lot of activity."
Healthcare Tops Tech
Another surprising finding is that the healthcare sector received more angel funding than technology, Sanwal said.
Sixty percent of healthcare investments were in medical device and equipment companies.