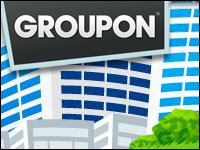 Popular online coupon marketer Groupon filed for an initial public offering with the SEC on Thursday, meaning the public will soon have the chance to buy into one the world's fastest-growing companies.
Groupon hopes to raise US$750 million in the deal, which will be underwritten by a group of investors from Morgan Stanley, Credit Suisse and Goldman Sachs.
Groupon offers customers a coupon per day via e-mail to local restaurants, spas, entertainment or other attractions and businesses. It currently has more than 83 million e-mail subscribers.
The IPO comes just months after Google made a sizable bid on the company. The search engine giant reportedly offered $6 billion to take over Groupon, but the online coupon service turned it down.
Because of that decision, Groupon's chief executives hold the reins as the company goes public and can continue to have a say in the company they created and watched grow.
"I think at this time they made the right choice. Now they're still in the driver's seat and will maintain a ton of control with the IPO," Bill Buhr, IPO strategist for Morningstar, told the E-Commerce Times.
After its offer was spurned, Google retaliated by launching a beta version of its own online coupon service. Google Offers looks and acts much like Groupon by sending users a limited-time-offer coupon to their inboxes each day. It sent out its first coupon to users in the Portland, Ore., area earlier this week.
Any Loyalty Among Deal Hunters?
Though Groupon is perhaps the biggest name in the online coupon market, rivals large and small have also entered the scene over the last few years, including LivingSocial, Groop Swoop, Scoop St. and Social Buy, along with plenty of others. They offer similar daily deals to users in various cities around the world.
With so many competitors emerging, it's sometimes difficult to imagine Groupon becoming a brand name with staying power and customer loyalty, such as Google or Apple. Since this is a site that's succeeded because people like getting great bargains, their customers are going to go to wherever the best deal is, regardless of the name on the coupon.
"We don't necessarily see them forming a competitive advantage over their peers. This repeat business angle they're counting on, I don't see merchants or customers ever forming a true brand loyalty, and that's the thing that makes this whole thing collapse," said MorningStar's Buhr.
It's an issue Groupon points out in its S-1, the document companies use to file an IPO with the U.S. Securities and Exchange Commission.
"A substantial number of group buying sites that attempt to replicate our business model have emerged around the world. In addition to such competitors, we expect to increasingly compete against other large Internet and technology-based businesses, such as Facebook, Google and Microsoft, each of which has launched initiatives which are directly competitive to our business," reads the S-1.
Probability for Profitability
Questionable brand loyalty could put a dent in Groupon's profitability, which, like most start-ups, has been rocky.
The company is growing at a phenomenal pace, jumping from bringing in about $30 million in 2009 to more than $700 million in 2010.
Despite those large numbers, however, the company has not been profitable since 2008. 2010 losses were calculated at $389.6 million.
A statement in its S-1 reads, "We don't measure ourselves in conventional ways," and goes on to detail the financial metrics by which Groupon measures its sustainability. To measure their long-term financial stability, it uses "Adjusted Consolidated Segment Operating Income, or Adjusted CSOI." Before new subscriber acquisition costs and certain non-cash charges, then, it can measure its operating profitability.
It's typical for start-ups to spend money like Groupon does on customer acquisition and marketing to create a customer base, but if that customer base doesn't have loyalty to the brand, it's difficult to finally break away and become profitable.
"Their growth is insane right now, and I think they could get there, but at least going forth any time soon, that's a huge concern," said Buhr.
Still, in its S-1, Groupon maintains an air of positivity that the company has what it takes to be at the top of the online coupon heap in the future.
Statements such as "We aggressively invest in growth" and "We are always reinventing ourselves" suggest a forceful approach toward using the capital to continue to grow with the market.
Groupon declined to elaborate on its strategy outside of a referral to the S-1.
"At this time we're in a quiet period with the issue of the IPO. Anyone can reference our S-1 to find answers to any questions," Monica Driscoll, representing Groupon, told the E-Commerce Times.