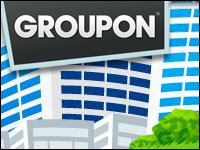 Online coupon retailer Groupon is reevaluating its plans to go forward with its IPO following a volatile summer market, according to a Wall Street Journal report.
The daily discount company originally announced its plans to go public in June and was rumored to be counting on a valuation of around US$20 billion, with some reports going as high as $25 billion — more than three times the $6 billion Google had offered to buy Groupon toward the end of 2010.
The sky-high reported valuation raised the eyebrows of a few market watchers, considering that Groupon has yet to turn a profit. Despite rapid growth and widespread popularity, critics have questioned whether the company has a loyal enough user base or a competitive advantage in a field with few barriers to entry.
The influx of competitors like Living Social and even ventures from Facebook and Google, combined with the highly unstable market conditions and questions concerning its S1 filing, has led to a reported case of cold feet among investors.
The company hasn't revealed whether the public option is gone for good, but it is said to be evaluating it on a week-to-week basis. Groupon didn't respond to the E-Commerce Times' requests for further comment.
Market Roller Coaster
The U.S. debt ceiling debate, instability in Europe and an overall lack of consumer confidence collectively shook the market over the summer, and the tumultuous ups and downs are reportedly causing concern among Groupon strategists.
"Basically the deteriorating state of the market is the primary reason," Greg Sterling, founder of Sterling Market Intelligence, told the E-Commerce Times.
Harsher SEC scrutiny and rocky market conditions have resulted in many companies holding off, or canceling altogether, their IPOs.
Groupon Concerns, Too
A spastic market isn't the only cloud hanging over Groupon's plans, though. The company, headed by CEO Andrew Mason, has brought on its own set of problems in regard to its initial S1 filing and its so-called quiet period, a period of time prior to an IPO in which a company must refrain from making public statements.
"The way this was announced and the things that have occurred since have been nothing short of mind-boggling, starting with the initial filing," Scott Sweet, senior managing partner IPO Boutique, told the E-Commerce Times.
The first filing was given to the U.S. Securities and Exchange Commission in June, right after LinkedIn successfully went public and around the time other tech start-ups like Zynga were flirting with IPOs and sky-high valuations. At the time, there was even talk about the possibility of a highly lucrative Facebook IPO.
"People were euphoric in that it was filed right after LinkedIn, which of course did extremely well, and people were immediately thinking 'Encore.' At that time, Groupon had already turned down a $6 billion offer by Google, so right there they had laid down the gauntlet that they want big dollars," said Sweet.
However, the company couldn't quite guarantee it had the standing to demand such a price. Groupon saw unprecedented growth as it started offering daily coupons to peoples' email inboxes, but revenues haven't added up to profits yet.
In addition, since there are few barriers to entry in online coupon distribution, competitors have been popping up all over, some focusing tightly on specific cities or types of products, such as Gluten-Free Deals, to attract a more loyal user base.
Groupon offers "nothing more or nothing better than any other coupon company, and it is so easily replicated that their deals are no better than things you get in their regular mail or from other little Web companies," said Sweet.
Investors and analysts started voicing these and other criticisms after the initial IPO announcement. That apparently motivated Mason to write a company memo to employees in which he expressed his view that Groupon was going to prosper despite the negative press and notes.
The memo, which was sent during what was supposed to be a quiet period, was leaked to the public, which didn't sit well with the SEC.
"The company has seen relentless criticism during the quiet period from analysts and bloggers critical of the numbers released. That prompted the 'leaked memo' from CEO Andrew Mason about Groupon's prospects. The combination of the condition of the market and a potentially diminished appetite for Groupon are conspiring against the IPO at the moment," said Sterling.
It's uncertain what Groupon will do in the event of a long-delayed or canceled IPO.
"If they can't get an IPO off, or get some additional financing, I don't see them around for long," said Sweet.