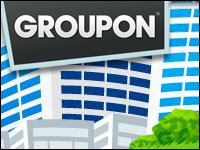 Shares of Groupon were down about 14 percent midday Thursday, a day after the company revealed that it failed to turn a profit in its first quarter as a publicly traded company.
The daily coupon site saw a revenue increase of 194 percent to US$506 million during its first fiscal quarter, but it still had a net loss of $42.7 million, or about 8 cents per share. Groupon numbers dipped thanks to a high overseas tax rate, global expansion and an increase in competition. However, the overall loss was still worse news than many Wall Street analysts had expected. Some had anticipated the company would report a small profit.
Groupon expanded from its Chicago base to 47 new countries over the past year, including a new international headquarters in Switzerland. Because of the income generated in some of those countries and provisions relating to the new headquarters, Groupon had to pay $35 million in taxes during its first quarter, or a rate of about 1,600 percent.
That rate was higher than the company had expected and will be lower in the future, according to Groupon's Chief Financial Officer Jason Child.
Groupon didn't offer details about how many coupons were sold through its site and didn't respond to our requests for further details.
Shifting Future Costs
Groupon placed some blame for its difficulties on unexpected costs, including high tax rates and acquisitions. It said it's confident it can turn around going forward.
"Even though revenues have increased for Groupon and they have expanded by acquiring Adku, Mertado, so has the overall operating costs. It is only logical," Rob Abdul, an independent e-commerce consultant, told the E-Commerce Times.
In addition to a declining tax rate, Groupon said it will cut down on other costs such as marketing, on which the company spent $156.5 million in the past quarter. But Groupon will continue to "aggressively invest" in building up its technology and engineering infrastructure to more closely resemble a Silicon Valley-type company, according to CEO Andrew Mason.
"It is difficult for any e-commerce business to service online. Marketing is a cornerstone to getting the word out about your business," said Abdul. "Groupon said in an October regulatory filing that it plans to 'significantly' reduce online marketing spending over time. Not a good move."
Challenges Ahead
Even with those shifting costs and a lower tax rate, Groupon still faces stiff competition in the future. The company has become a well-known player in the online daily deal market, but other e-commerce sites don't face as many barriers to entry to become a viable competitor.
"There is a large local e-commerce opportunity with plenty of growth avenues, but we remain on the sidelines given the competitive market of daily deals and rapid slowdown in marketing," Herman Leung, senior analyst for Susquehanna Financial Group, told the E-Commerce Times.
The site has an active user base of 33 million, but Mason acknowledged that Groupon is failing to seize new market share, especially in local and niche markets. With so many competitors, there is also an element of customer fatigue — some people just get tired of seeing a massage or bowling alley coupon every day in their inboxes.
The low barrier of entry to its market could also become a larger problem, Abdul said.
"Small competitors may have a hard time getting attention over Groupon, but I don't think Google will have that problem, as they have the resources," Abdul added.