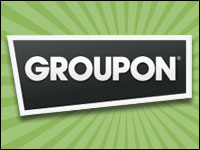 Groupon reported a better than expected first quarter thanks to strong North American revenue growth and an uptick in mobile customers. That helped send the daily deal website's stock soaring Wednesday.
The company reported revenue of US$601.4 million, an 8 percent jump from the $559.3 million from 2012's first quarter. Analysts had expected closer to $592 million.
Groupon was especially excited about its gains in the mobile space. The company had 7 million app downloads during the past quarter, and mobile purchases now account for 45 percent of its North American transactions, compared with 30 percent from the same time a year earlier.
That's an impressive statistic, considering that so many other tech companies are struggling with the transition to mobile, said Arvind Bhatia, analyst at Sterne Agee.
"One of the interesting dynamics of the Groupon story is the increasing percentage of its business on mobile," he told the E-Commerce Times. "Unlike many Internet companies, Groupon's business on mobile is a natural extension of its desktop business."
The company's worldwide business doesn't have as much steam as mobile. Groupon's international segment saw an 18 percent decline compared to the year before. That was offset by 42 percent growth in North American revenue, though, and overseas expansion can be a slow process that Groupon seems to managing relatively well, said Bhatia.
"Groupon generated $5.4 billion in merchant billings last year, in only its fifth year as a company," he noted. "Its international business is even younger, and is spread over multiple continents."
The earnings report was good enough to please investors, who sent the stock climbing more than 15 percent in after-hours trading. Going into Thursday afternoon Groupon had cooled a little, but was still trading up about 9 percent, at about $6.15 per share.
Groupon did not respond to our request for further details.
Executing a Sustainable Business Plan
Despite the stock's success following its earnings, Groupon is still trading significantly below its $20 IPO price. That's partly over concerns that the company can't hold on to its business in a field full of smaller competitors that are fitting different niches, said Patrick Boyle, Internet marketing and e-commerce strategist at SocialeXpand.
"Daily deal sites are all morphing into something else or offloading their lists into other ventures," he told the E-Commerce Times.
The problem isn't with the general concept of offering consumers discounted goods and services, said Marc Horne, co-founder of Daily Deal Builder. It comes down to how those deals are executed.
"The daily deal industry isn't going anywhere," he told the E-Commerce Times. "People love deals, and merchants and businesses always want new customers. Daily deals, if they are structured properly, work. If they're not structured properly, they won't, and that has been Groupon's main problem. Groupon is looking out for investors as opposed to looking out for merchants."
The company has shown it has what it takes to remain the leader in the space, but Groupon isn't maximizing its potential, said Horne. By zeroing in on what merchants could gain from Groupon, the site could attract a brand new set of vendors and consumers in every market.
"Groupon will stay on top, because it has the most funding and backing and largest user base," he said. "But in order to stay there and really grow, they have to look at every merchant out there and figure out their needs. They can help them with SEO, with web creation and other areas beyond just being a platform to run a daily deal."
Growth vs. Stability
A good way to renew some of that focus would be with new leadership, said Horne. Groupon ousted its cofounder and former CEO Andrew Mason in February after another dim quarterly report that caused the company to dip further and further away from its IPO valuation.
The current leadership team acknowledged the search for a new CEO in a conference call following the earnings report, noting that they were working well together right now, which gave them time to find an "ideal long-term CEO." For Groupon's first earnings report without Mason, that certainly seemed the case — the company's stock is up 40 percent since his departure, Home said, and addressing organizational issues would be the first order of business for any new leader.
"Groupon is a public company, and they need a CEO with experience with public companies," he said. "They could bring in an expert in the deal industry services, but they're a big organization right now and definitely need somebody with experience as far as operations go."
That would be enough to remain stable, said Horne. However, with a renewed focus on growth, a new CEO could bring a breath of fresh air into a company that is facing increased competition and a sluggish international market.
"Groupon isn't going anywhere, but they need to continue acquiring subscribers," he noted. "That includes more than just pushing merchants to run a daily deal, it means helping merchants get new customers. There are new daily deal sites launching every day that are designed to take market share away from Groupon, and it's working. A new CEO could help with that, but I doubt they will."