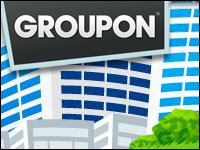 Groupon reported disappointing earnings for the third quarter, and shareholders soundly punished the company as a result.
It posted a net loss of US$3 million, compared with $54.2 million in the same quarter in 2011. Third-quarter revenue clocked in at $568.6 million, compared with $430.2 million a year earlier. However, analysts had expected revenue of $590 million.
The company also announced the layoff of 80 employees, mostly in sales, as a result of automating more of its sales processes.
Groupon has made significant progress repositioning itself to be a local commerce operator. For example, it recently launched Groupon Payments, an offering aimed at small businesses seeking an alternative to traditional payment systems.
It has sought to add value to its offerings in other ways, as well. It acquired Savored, a provider of restaurant reservations, for instance. Last week, it rolled out an updated Groupon app for Windows.
Still, as Wall Street clearly illustrated when Groupon announced its earnings, those moves were not enough to appease investors disappointed in its failure to meet its early promise.
Shares in the company plunged 30 percent after the earnings were announced on Friday, reaching $2.76. On Monday, its stock was trading at $2.61 per unit.
A Struggling Industry
It probably is cold comfort that one of Groupon's major rivals is also having difficulties.
"Living Social is piling up losses, and Amazon was forced to write down its investment in Living Social as a result," Andreas Scherer, managing partner with Salto Partners, told the E-Commerce Times.
The daily deal industry is struggling across the board, with some firms faring better than others. The macro economic climate is one big reason — and it's affecting a lot of companies, Scherer said, "but that doesn't explain the landslide in [Groupon's] stock price from $25 in November of 2011 to sub-$3 only 12 months later."
Groupon may have a brand problem.
"There's a kind of stigma with merchants that offer Groupons," said Mike Tarsala, chartered market technician at Covestor.
"I think they tend to be favored by very green or struggling companies," he told the E-Commerce Times. "That may deter some big and established businesses from using daily deals."
Getting the Merchants Back on Board
A bigger problem for both Groupon and other players in this space is that merchants have developed a healthy skepticism about the daily deal model.
Thirty-nine percent of merchants responding to a recent survey said they were not likely to run another Groupon promotion over the next couple of years, with the top reasons being the high commission rate and low rate of repeat customers gained through offering a promotion, noted Scherer.
The poll of 115 merchants that used daily deal services during the fall was conducted by Raymond James.
Thirty-two percent of the merchants reported losing money on the promotions, and nearly 40 percent said the Groupon offer was less effective than other types of marketing.
"These numbers are a big blow for the model," Scherer said.
Groupon has to knock on increasingly more doors to find merchants willing to participate.
"What's even more important is that this approach only scales with the size of the sales work force," Scherer explained. "In short, this means high operating costs, less profits, increasingly higher management complexity."
Groupon's push to automate its sales could mitigate some of this.
"A lot of merchants have tried Groupon, but far fewer are committed to using it on a regular basis," Tarsala said.
"So far, it hasn't proven to be better than other ad mediums. That's why you see Groupon trying to augment its plan and sell more discounted merchandise," he noted. "That part of the business is ramping, but it just can't happen quickly enough."