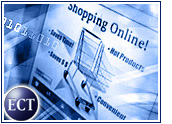 Aiming to carve out a spot in the peer-to-peer e-commerce space that has been dominated by players like eBay (Nasdaq: EBAY) and eBay-owned Half.com, Grab A Bargain.com on Tuesday officially launched its fixed-price bargain marketplace for the buying and selling of books, music and movies.
While notions of David versus Goliath — or Netscape versus Microsoft — may be conjured by some industry observers, Grab A Bargain president and chief executive officer Peter Antunes told the E-Commerce Times that Grab A Bargain.com is confident it can coexist with, if not unseat, competitors eBay and Half.com.
Orlando, Florida-based Grab A Bargain is currently available only to buyers and sellers in the U.S. and to buyers in Canada, but Antunes said that within four months, Canadian sellers will be able to participate. Additionally, Grab A Bargain said it plans to have consumers in the UK and continental Europe buying and selling on the site by first quarter 2002.
The Fix-It Site
Grab A Bargain, which boasts an inventory of more than 2 million items, said it is hoping its relative simplicity will drive it toward success. Unlike online auctions, sellers at Grab A Bargain do not accept competing bids for items. Rather, they offer goods at a fixed discounted rate, sometimes to the tune of 50 to 90 percent off the original price.
Further, sellers pay no listing fees. Whether they are an individual or a corporation, sellers provide basic product information and then pay a commission to Grab A Bargain.com only if the item sells.
"It has been proven that in today's 'Internet society' through the success of online auctions, people are willing to buy and sell almost anything online," Antunes said. "Our goal is to provide a marketplace where consumers can buy or sell without the listing hassles or financial risks associated with online auctions."
Individual Tracking
Antunes said that he has spent hours watching online newsgroups looking for clues on how to serve users better.
"I've noticed a lot of customers complaining about a lack of customer service at some of the other marketplaces out there," said Antunes.
His response was to develop an in-house customer relationship management (CRM) system that tracks the activity of every unique buyer and seller in the marketplace. According to Grab A Bargain, the system is always available to its team of customer support representatives.
Who's Selling?
Sellers on Grab A Bargain.com range from individuals to small mom-and-pop firms to major corporations, and Antunes claims that his firm's marketplace can accommodate the needs of any size or type of seller.
"Sellers have been extremely responsive," said Antunes. "Most of them encounter over-saturated venues at sites like Half.com, so now they're looking for other avenues to sell their products."
Despite working with a staff of 12 employees, Antunes said that Grab A Bargain hopes to drive its growth with an aggressive marketing campaign, slated for later this month, that will consist of referral programs and sweepstakes, the likes of which have proven successful for players like iWon.com.
"We want to attract useful users," Antunes said. "People who will bring value to our community by purchasing online, writing reviews, and the like."