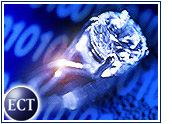 Luxury gift e-tailer Ashford.com (Nasdaq: ASFD) said Monday it has struck a partnership with eBay (Nasdaq: EBAY) that will enable it to sell leftover and closeout merchandise on the auction site.
Houston, Texas-based Ashford, which now specializes in jewelry, watches and other luxury items for the corporate gift and rewards program markets, will sell items from its Ashford Outlet on eBay.
Items will be sold both in fixed-price and auction format, the companies said.
Marketing Deal
The deal also calls for eBay to promote Ashford Outlet to its customer base of 30 million regular users, a needed boost for Ashford. In April, the Nasdaq warned Ashford that it faced delisting unless it lifted its stock price.
"We see this as an opportunity to develop a new channel that we believe will increase sales efficiently," Ashford chief executive officer David Gow said.
In early trading Monday, Ashford stock was up 10 U.S. cents per share — a 50 percent gain — to 30 cents. The company's 52-week high is $4.44, reached in September.
Corporate Focus
Ashford's renewed focus on the corporate market has helped boost sales, which rose 21 percent to $14.3 million in the second quarter of 2001 compared to the same period in 2000.
Ashford has relied heavily on partnerships and cross-marketing agreements. In January, the company inked a deal with Amazon.com., and late last year, it joined with Continental Airlines, American Express and Webvan in similar promotional deals.
Webvan, however, announced Monday that it had shut down operations and planned to file for bankruptcy.
Storefront Push
Meanwhile, eBay is gearing up for a marketing push of its own, to raise awareness of the storefronts campaign that arrived last month after weeks of speculation. eBay said thousands of its users have already opened storefronts.
In a message to eBay users, the auction leader said a link to the Storefronts Hub from the main eBay page would appear this week. Direct mailings to millions of past eBay buyers are also planned, as are banner advertisements and links from "other high traffic Web sites."
"It was important that before heavy buyer marketing took place, the stores had time to be built and established and the needs of the sellers were met," eBay said. "In addition to these immediate buyer promotions, there will also be significant marketing events to drive buyers to eBay storesfor the busy back-to-school and holiday seasons."