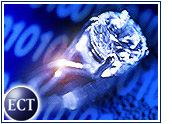 Amazon-backed Ashford.com(Nasdaq: ASFD) announced this week that it has received noticefrom the Nasdaq that the company no longer complies with the exchange's US$1minimum bid requirement and that the stock faces delisting.
The Houston, Texas-based luxury e-tailer has 90days to comply with the requirement. Ashford stock must achieve a bid price of $1 or more for a minimum of 10consecutive days during the 90-day period.
If Ashford falls off the Nasdaq, it could have a difficulttime battling back from the pink sheets of the over-the-countermarket.
"It is hard to come back once you're on the pink sheets," Matthew Foster, a Tampa, Florida-based partner with the lawfirm of Foley & Lardner, told the E-Commerce Times. "No one can go long, so the stock price is depressed."
Luxury Ride
In general, luxury e-tailers have struggled on the Web, due to their prices and the fact that it is hard to recreate on the Web the experience of being in an upscale shop.
A recent Forrester research report said that, instead of trying to recreate the offline luxury shopping experience, e-tailers should take advantage of cyberspace's own unique charms, offering customers the convenience of being able to find anything they want through keyword searches and the ability to complete purchases with just a few clicks.
Ashford, for its part, has placed a premium on service. When holiday sales were anticipated to test the limits of the staff, Ashford added workers. When customers were still smarting from 1999 delivery debacles, Ashford promised next-day delivery on most items.
In addition, Ashford's marketing agreement with Amazon.com required no up-front money from the luxury e-tailer. Under the deal, Ashford pays as it goes for e-mail promotions and package inserts via Amazon.
Still Sinking Stock
However, despite the alliance with Amazon and increased third quarter 2000 sales — which grew to $27.75 million for the quarter ended December 31st from $20.1million in the year-earlier period — Ashford posted a netloss of $40.02 million, or 87 cents per share, compared with a loss of $19.04 million, or 51 cents, a yearearlier.
The last time Ashford's stock, which closed Thursday at 62 cents per share, finished the day above $1 was February 26th, when itreached $1.03. The company has not traded at or above $1 ashare for 10 consecutive days since early in December.
Not Alone
Ashford is not alone in its delisting woes. Troubled online grocer Webvan (Nasdaq:WBVN) announced Wednesday that it was appealing a notice received from the Nasdaq on April 16th that it would be delisted within 10days.
Filing an appeal will buy Webvan 45 days, but most appeals tothe Nasdaq are unsuccessful.
Since Webvan received a letter in January notifying the company that it was not in compliance with the minimum bid requirement, the stock has plummeted from 50 cents to 6 cents per share. Webvan has not seenthe $1 level since November.
A Nasdaq delisting was one of the final blows delivered to a number of failed dot-coms, including Garden.com and Pets.com.