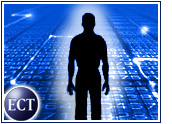 It is not likely that the founders of the Internet ever imagined all their hard work would lead to an online bidding war for bullet casings from the set of "MissionImpossible 2."
However, thanks to a live TV and Internet auction being put on by cable channel American Movie Classics (AMC) and Ibidlive on July 12th, that is exactly what's happening.
The auction will carry a wide range of movie memorabilia from some of Hollywood's leading men and will be broadcast live from Los Angeles on AMC.
Web surfers will be able to bid in real time via the Net. When a bid is entered online, it is picked up almost instantly by an "auction attendant" who is live at the event and sends up the bid, just as is traditionally done with phone auctions, Ibidlive said.
That's Entertainment
"Our goal is to bring entertainment to auctions and auctions to entertainment," said Steve Munatones, the chief executive officer of Ibidlive, which was founded in November 1999. "Auctions in themselves are boring. What we want to do isbring in some backstory to turn it into entertainment."
Munatones may have a valid point. Some celebrity auctions do very well,bringing in thousands of dollars.
On the other hand, others are not as successful, and entertainment value may be the missing link.
Mixed Results
For instance, an auction of Marilyn Monroe memorabilia at eBay (Nasdaq: EBAY) in March ended with mixed results. A silk-and-chiffon gown worn in the movie "ThePrince and the Showgirl" and a handwritten note on Monroe's reasons for seeking adivorce from her first husband, Jim Dougherty, went for US$23,375 and nearly$3,000, respectively.
However, a set of nude photographs of the movie star failed to sell, reportedly because none of the five bids received met the undisclosedminimum price set by the seller, Tom Kelley, Jr.
In September 2000, however, William Doyle Galleries broadcast its sale of lateactor James Cagney's collection on Ibidlive and Pax TV. That sale brought in$480,671, with a quarter of the lots selling to online bidders.
Courage for Sale
The AMC auction includes these items, among others.
The Cowardly Lion costume worn by Bert Lahr in "The Wizard of Oz."
Charlie Chaplin's cane from the 1914 film "The Masquerader."
Lunch for 10 on the yacht "Wild Goose," once owned by John Wayne.
Elvis Presley's suit from "It Happened at the World's Fair" (1963).
Proceeds from the auction will benefit The Film Foundation, a nonprofit organization led by filmmaker Martin Scorcese.
Handicapping the Auction
According to a recent report by Nielsen//NetRatings and Harris Interactive, online auction spending for May 2001 jumped 149 percent from the same month last year, and now makes up 10 percent of total e-commerce spending, up from 2 percent in May 2000.
With the factors determining the success of live online celebrity auctions still unclear, it is almost impossible to predict beforehand which items will be the biggest hits.
Chances remain strong that the AMC auction will have some winners because of its Hollywood appeal. An auction of the stuff owned and worn by the Internet's founding fathers, on the other hand, might not do as well.