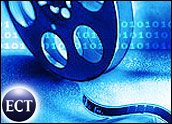 Hollywood.com (Nasdaq: HOLL) and CinemaNow announced Thursday that they are creating a new, co-branded pay-per-view movie site scheduled to open in June.
The deal gives the smaller CinemaNow a much needed venue for distributing mainstream full-length films. Whether it will help give the overall online movie distribution channel more life is another issue.
"These are interesting experiments and I don't think there's anything wrong with them, but I don't think they're the future of the industry by any stretch," Forrester analyst Eric Scheirer told the E-Commerce Times.
Movies on the site will be streamed for a cost of US$2.99 each, Hollywood.com and CinemaNow said, with two or more movies offered to viewers every two weeks. The films will be available at streaming speeds of between 56 kilobits per second (kbps) and 700 kbps.
Thumbs Up or Down?
CinemaNow, which is majority-owned by Lions Gate Entertainment (AMEX: LGF), streams more than 200 feature-length films, using the Windows Media Player as its viewing platform. The company also has the digital rights to distribute movies online from Trimark Pictures, Allied Artists, Tai Seng Home Video and Salvation Films.
Initial film offerings on the new site will include "Heaven's Burning" starring Russell Crowe and "Steal This Movie" with Vincent D'Onofrio and Janeane Garofalo.
Scheirer said that the site's long-term success will hinge on whether it shows movies that people actually want to watch.
"Without knowing how many movies they will have, and of what quality, you can't really predict if it's going to be a profitable venture or not," Scheirer said. "If they only have movies that didn't go far at the box office streamed in low bandwidth rates, that's not much of a business."
Staying Legal
CinemaNow also acquires and distributes original films specifically intended for initial Internet distribution on a pay-per-view basis, which is then followed by distribution via traditional media through the Lions Gate sales force.
The movie industry has historically been quick to squelch any attempts at online distribution of major Hollywood films without the proper licenses. Earlier this year, CinemaNow made a preemptive strike to lock in its territorial-based controls of movie licenses.
By partnering with a Web-tracking software company called Digital Envoy in February, CinemaNow gained a tool it says will help it make good on its distribution promises. According to Digital Envoy, its software enables CinemaNow to locate theprecise location of its users (with accuracy rates of 99 percent) — virtually eliminating any license violation issues.
Small Potatoes
Scheirer said that ultimately, all these technological machinations might be for naught.
"I don't think it's about technology," said Scheirer. "It's about customer experience. For the most part, customers don't want to watch full-length movies on PCs, they want to watch them on their TVs."
In fact, the true future of digital movies lies with digital TV and cable, Scheirer said.
"There's a little opportunity for independent distribution through the Web, but it's never going to be the case that a significant portion of Hollywood revenues flow through the Internet," Scheirer said.