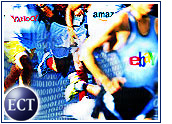 In e-commerce today, one company is clearly the king of the online auction hill. And according to experts, it will be difficult, if not impossible, for rivals to stage a coup d'eBay.
San Jose, California-based eBay (Nasdaq: EBAY) grew to be a "yard sale on steroids," Forrester Research analyst Christopher Kelley told the E-Commerce Times, because it was the first company to figure out how to make online auctions work.
"They had a good idea and executed it well," Kelley said.
"eBay is now mainstream America," said Larry Jordan, vice president of marketing for AuctionWatch.com. "If you have not heard of eBay, you're living under a rock."
Although surpassing the auction giant will not be easy, Jordan said that the competition should not completely resign itself to a long, unchallenged reign for eBay. If anything, eBay's rivals are vying to be No. 1A, not No. 1.
"I think there are a number of people who can catch eBay," Jordan told the E-Commerce Times. "There's room at the top for more than eBay."
Heel Nippers
Rosalinda Baldwin, editor of The Auction Guild, told the E-Commerce Times that eBay could face challenges from other companies, albeit on the fringes or far into the future.
"Other sites will catch up with eBay, and I also believe a co-op will eventually emerge to give eBay strong competition, but it will take three to five years for this to happen," Baldwin said. "Certain niche sites will probably take certain categories away from eBay sooner rather than later, particularly in the antiques and collectible areas."
Climbing to the top of the online auction hill will require some serious effort, but a few companies are making progress.
Game Plans
"A number of people have interesting ideas," Jordan said, pointing to the strategy of Amazon.com (Nasdaq: AMZN) to place its marketplace listings (items for sale by Amazon users) alongside its fixed-price listings.
Another eBay challenger, Yahoo! (Nasdaq: YHOO), has been pushing to become more seller-focused, Jupiter Media Metrix analyst Jared Blank told the E-Commerce Times. Blank said he does not believe Yahoo! will be able to catch eBay, but that Yahoo! will be able to "lure some sellers over."
Blank pointed out that because Yahoo! offers a flat listing fee and does not take a percentage of the seller's profits as eBay does, it is actually cheaper for sellers to sell high-dollar value items on Yahoo!.
Blank said the online auction pie is big enough for runners-up like Amazon and Yahoo! to create a niche for themselves.
Overcoming Fraud
Any company that wants to overtake eBay will have to address the fraud issue because fraud is the "biggest concern people have" about online auctions, Kelley said. Even eBay has not been totally successful in eradicating that fear.
"Due to the sensational fraud coverage by the media, and the lack of the truth as to how little fraud really occurs on eBay, and in the person-to-person online auction and trading industry as a whole, most people who have not bought and sold on eBay think 50 percent of the deals go wrong," Baldwin said.
Baldwin added: "Since the truth is that it is a fraction of 1 percent, eBay must not be doing too good a job of presenting itself to the public."
eBay spokesperson Kevin Pursglove told the E-Commerce Times recently that only one out of every 40,000 auctions on the site is fraudulent.
Keys to Success
Online auction rivals looking to beat eBay at its game will have to develop a strong brand name and a well-balanced buyer and seller base, Jordan said.
Baldwin said that any company willing to "sign a contract with the community and guarantee them certain rights" could give eBay a run for its money.
"Yahoo! is the one who could probably do it in the shortest term, under certain conditions," said Baldwin. "They would have to really be willing to work with the community to get there now, and I am not sure they have the smarts or corporate will."
eBay Getting Bigger
Meanwhile eBay is still growing, according to Jordan, thanks to a series of smart moves, including the acquisition of Half.com, which allows buyers to buy and sell fixed-price merchandise.
Kelley said there was also potential in eBay's new fixed-price storefronts, which launched earlier this month.
The company has benefited from partnerships with other sites, including Microsoft and Terra Lycos, which Kelley said will likely give eBay a "bigger presence overall." eBay is also branching out internationally, with the purchase of Paris, France-based iBazar in February and the launch of Web sites in Ireland, New Zealand and Switzerland in March.
"I think the big growth is going to be internationally," Blank said.
Viral Vitality
According to Jordan, eBay had been successful at growing its buyer and seller base at a balanced rate. He pointed out that having an imbalance of buyers and sellers can hurt an auction business. With too few sellers, the buyers will leave because they can't find what they want. And with too few buyers, the sellers will become frustrated because their goods are not selling, Jordan said.
Perhaps the smartest thing that eBay did to assure itself the top spot in the online auction heap was to use viral marketing to grow its buyer and seller base at a phenomenal rate, analysts say.
"It started as a community word-of-mouth site that made its growth exponential in nature," Baldwin said. "The early users brought in thousands of other users and taught them how to use the site, and made eBay a household word. Sheer critical mass is what keeps it on the top of the heap."