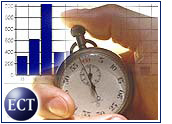 Internet auctioneer QXL Ricardo (Nasdaq: QXLC) reported a smaller loss for its fiscal fourth quarter ended March 31st and announced a newpartnership with Microsoft (Nasdaq: MSFT) on Friday.
The agreement will make QXL's servicesavailable over the software maker's Windows XP operating system and instant messaging service Windows Messenger.
Shares of QXL, the European rival to U.S. online auctioneer eBay (Nasdaq:EBAY), jumped in Europe following the news. On the opposite side of the pond, QXL's American depositary receipts rose US$1.93 to $4.16 in morning trading Friday.
Chief executive officer Jim Rose said QXL has "radically transformed" itselfover the past year, consolidating a number of acquisitions, includingGermany's Ricardo.de and Sweden's Bidlet.
QXL also has changed its businessmodel so that it carries no inventory and generates revenue from listing andother fees.
Rosy Picture
"During the year, we drove top-line growth, aggressively reduced our costs,despite acquisitions, and continued to develop strategic partnerships andproduct enhancements," said Rose. "We remain committed to serving ourmembers, illustrated by the announcement of our partnership with Microsofttoday offering enhanced auction services via the .NET program."
Meanwhile, QXL chief financial officer Robert Dighero said he expects cash burn to fallover the next year, as the Bidlet and Ricardo acquisitions begin to bear fruit.
Book Review
QXL reported that its gross auction value rose to 31.7 million pounds in the latest quarter, from24.9 million in the quarter ended in December, with QXL increasing itsmembership base by 11 percent to 2.9 million people.
The company also said that gross profit rose by 35percent to 1 million pounds, and that its trading loss — whichexcludes extraordinary items — narrowed to 9.7 million pounds from 12.1 million pounds. QXL did not give comparable figures for theyear-earlier period.
Microsoft Deal
The new Microsoft partnership, QXL said, will improve user access to QXL'sauction services. According to Rose, the agreement givesQXL "an excellent opportunityto further develop the auction management system through enhanced tools andtechnology."
Microsoft said the partnership will help its e-commerce plans as well. NeilHolloway, managing director of Microsoft's Europe, Mideast and Africanoperations, said the deal is an "important endorsement for Microsoft's .NETvision."
The companies did not disclose the financial terms of their pact.
Challenges Ahead
QXL said that challenges remain despite the company's strong quarter and current momentum.
"Most significantly, we need tocontinue the rollout of success, listing and other fee structures," Rose said. Success fees are paid after a sale is completed.
In addition, Rose said that whilethe new fee-based plan will strengthen results in the future, transactions could drop in the short term after the fees are implemented.
eBay on the Horizon
One of the biggest challenges facing the company is from eBay, which has set its sights on thegrowing European e-commerce market. In March, eBay launched three international Web sites, settingup in Ireland, Switzerland and New Zealand.
eBay, which began expanding overseas in 1999, has sites in Germany, Austria,Japan, Australia, Italy and Korea, and is also buying France's iBazar. eBay has said its European marketplaces generated more than $137 million ingross merchandise sales in the fourth quarter.