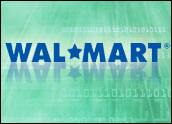 The Ministry of Commerce in China has approved Walmart's bid to buy a controlling stake of Chinese e-commerce company Yihaodian, part of Walmart's bid to increase its global retail presence.
Prior to the approval, Walmart already possessed a 17.7 percent share in Yihaodian, one of the fastest-growing e-commerce companies in China. In February, the retail giant announced a plan to increase that investment to about 51 percent. The Chinese Ministry of Commerce has approved that buy, but its OK was combined with conditions mandated by the MOC's anti-monopoly bureau meant to ensure the acquisition doesn't stifle domestic competition.
Under the restrictions, Yihaodan must only use its e-commerce platform for sales and not for outside Internet services. Walmart also cannot host third-party transactions on the platform.
Additionally, Walmart cannot use variable interest entity (VIE) arrangements to conduct value-added telecommunication services that are now operated by Yihaodian. VIEs are common in China and are a way for overseas investors to avoid Chinese restrictions on foreign ownership. Through the arrangement, overseas companies are able to control, but not legally own, Chinese companies.
"Walmart is committed to the development of our e-commerce business in China," Dan Toporek, communications for Walmart, told the E-Commerce Times. "We are impressed with Yihaodian's strong management team and pleased with our investment."
Walmart did not release any financial details of the deal.
Big Chinese Market
The sheer volume of online shoppers in China make a move into the country's e-commerce scene a smart one for Western retailers, said Rob Abdul, an e-commerce consultant.
"An astounding 30 million Chinese consumers are expected to shop online for the very first time every year until 2015, which is comparable to the entire population of Canada beginning to shop online every single year," he told the E-Commerce Times.
China's e-commerce penetration grew from 10 percent in 2006 to 23 percent in 2010, according to a report from the Boston Consulting Group. The number is expected to rise to as much as 44 percent by 2015, and Yihaodan is one of the leaders in that industry. The company operates from delivery stations in 34 cities across China. It also has a high rate of users in key shopping demographics, such as the 25- to 34-year-old age group and those browsing from work, said Abdul.
Those are key demographics for netting China's growing group of online shoppers, said Michael Stanat, global research executive at SIS International Research and author of China's Generation Y.
"China's population of net users is sizable, and mobile phones ownership is high," Stanat told the E-Commerce Times. "A growing middle class with an appetite for new goods and services also impacts e-commerce. E-commerce also expands purchasing opportunities for those who cannot find what they want at brick-and-mortar stores."
But Is Walmart the One?
However, breaking into the market isn't a guarantee, said Michael Keara, an analyst at Morningstar, especially for a company like Walmart that has struggled with online retail endeavors in its own country.
"It's too soon to tell how successful this can be," he told the E-Commerce Times. "Walmart has had issues in the U.S. competing with Amazon and has had a difficult time getting traction here, so it's not a sure thing that they're going to be successful in China."
If China is looking to expand its global presence, launching into the e-commerce landscape rather than building brick-and-mortar stores makes sense from a returns perspective, said Keara. But the company also needs to pay attention to the stipulations that come with the deal and look to companies like Google that have had trouble doing business in China before guaranteeing this investment will be a win, he said.
"Amazon is clearly the best in class for e-commerce, and retailers in China don't want an American company to come in and dominate," he said. "The company has already had some problems in China, so it's going to be interesting to see how this plays out."