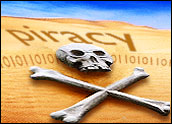 The White House and eight companies including Google and Microsoft announced a joint effort to mobilize against online piracy and counterfeiting Monday with the help of a set of best practices developed in conjunction with the Interactive Advertising Bureau.
The effort is designed to limit the revenue gained from displaying ads on sites that offer pirated materials or counterfeit goods. The coalition — 24/7 Media, Adtegrity, AOL, Conde Nast, Google, Microsoft, SpotXchange and Yahoo — has pledged to adopt and publicize policies opposing counterfeiting or copyright infringement activities.
Upon receiving proof that a participating ad network is sponsoring ads on a website conducting illegal activity, the consortium will notify the site implicated in the infringement.
Some of the companies involved, including Google, pointed to their past efforts to help crack down on illegal online activity, but acknowledged that piracy is still a challenge and that more can be done through best practices to attack it.
Right now, the voluntary system applies only to companies and ad networks in the U.S. The best practices will be implemented over the coming months.
Working Together
Government and corporate officials often work together on initiatives that will cut down on crime, said Scott Seder, attorney at the Law Office of Scott P. Seder.
"Protecting American IP is and should be a priority for the Obama administration," he told the E-Commerce Times. "Working with innovators and industries is a must in those efforts."
It's especially important now, as cybercriminals are getting better at evading authorities, he added.
Also, a lot of people still consider Internet piracy a victimless crime or contrary to their beliefs about Internet freedom, Seder pointed out. "Here, you are seeing the government and industry work together to try to better educate the masses about the detrimental economic and consumer safety consequences of supporting pirated IP."
Can It Work?
The outcome of these efforts is likely going to be another story, said Chun Wright, IP enforcement and Internet attorney at the Law Office of Chun T. Wright.
"Whether this code will be workable and have any lasting impact remains to be seen," she told the E-Commerce Times. "It is important to note that the code states that it does not impose a duty on any ad network to proactively monitor its network to identify infringing websites."
Instead, the rights holder of the site must identify the infringing site and then provide proof to the ad network that it's the one providing the advertising — plus give specific examples of the counterfeit goods or pirated material being offered, Wright explained.
That places an unequal burden on the rights holders, she maintained.
"Rights holders already bear an enormous burden to issue DMCA and other cease-and-desist notices to infringing websites. The code's notice-and-takedown system will only add to that burden," Wright said.
"A rights holder cannot take advantage of the complaint process until they have issued a DMCA notice or a cease-and-desist letter to the website. This will prevent rights holders from being able to attack counterfeit and pirate websites on all fronts simultaneously," she noted.
In addition, cybercriminals have been targeted by regulators before, said Wright, and it's likely they can figure out a way to get around another set of rules.
"The infringing sites undoubtedly will migrate to ad networks based in other countries, as they are not part of this voluntary initiative," she suggested.
The code doesn't make it clear what role the administration would have in pursuing these evasive criminals, said cybercrime attorney Michael Cernyar.
Instead of backing a voluntary initiative with some bureaucratic hurdles, the administration might more effectively take a bite out of illegal online activity if it were to invest in efforts that could beat cybercriminals at their own game, he suggested.
"The best way to eliminate or control piracy is through technical innovations," Cernyar said. "The politicking of a new policy is very ineffective."