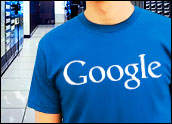 Google has acknowledged its acquisition of tech firm Agnilux but has not provided any details about the transaction or even hints as to its purpose.
The acquisition has prompted a far more spirited discussion than usually occurs when Google buys a company. Agnilux is something of an enigma — but what is known about it suggests that it could help Google develop a device capable of taking on the iPad.
Agnilux was launched by a group of former employees of P.A. Semi, a chip company acquired by Apple in 2008, which was reputed to have designed the chip for the iPad. Other Agnilux staffers reportedly came from Cisco, IBM, TiVo, Boeing and RealNetworks.
Google did not return the E-Commerce Times' request for comment by deadline.
Input at the Silicon Level
"Clearly, Google wants input now at the silicon level — that says a lot," Roger L. Kay, president of Endpoint Technologies, told the E-Commerce Times.
The possibilities include proprietary chips for a tablet, a new line of Android phones or a Google TV set-top box, he said.
Competitive Heat?
Of course, the driving force behind the acquisition could have been as simple as Google following a trend among high-tech conglomerates — such as Apple — toward bringing custom-chip makers in house.
"This is something new that we are seeing now by full brand companies," Kay said.
The fact that some of the people have backgrounds similar to those of the engineers who designed the iPad chip could well be a coincidence, he added. "There is only a small pool of talent that can do this, and it is traceable back to the same roots."
Google might have been feeling the competitive heat, suggested Nathan Brookwood, research fellow with Insight 64, pointing to Apple's recent acquisition of Intrinsity, which designs low power static processors. "Google may have realized it will need this functionality down the road, so it is better to scoop up Agnilux now then wait and chance it getting acquired too."
A Better Android
More than likely, though, Google has something specific in mind for its Agnilux team, Brookwood said. There are a few possibilities.
One is that it might want a proprietary chip to power the hundreds of thousands of servers it uses for its search engine software. That's unlikely, Brookwood said, because it is difficult to envision how crafting a chip in-house could improve upon the functionality Intel or AMD can deliver for this standard task.
A more likely possibility is that Google wants chip functionality in-house to improve its Android OS or build its own tablet PC, Brookwood speculated — and he's leaning toward the former.
Smartphone production is a market that is measured in the tens of millions of units, he noted. "When you get to that kind of volume, it makes sense to have a proprietary chip optimized for the software."
Bigger Bang
A tablet PC is also a distinct possibility, Brookwood said, especially considering the rumors that Google is building one.
To compete, Google will need to offer topnotch battery life and power performance, he said.
The iPad is said to have a 10-hour battery life, noted Brookwood. "[Google] would have to come out with a new product that could beat or at least meet that."