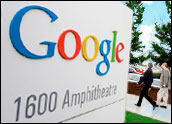 On the heels of two senior executives who recently left Google, a third — David Rosenblatt, head of the display advertising business — is saying goodbye. His final day is scheduled for mid-May. While their timing is most likely coincidental, the departures suggest a worrisome trend for Google.
Rosenblatt, the former CEO of Doubleclick, was among the top corporate decision makers in the company. Google has already announced his successor: Henrique De Castro, managing director of global display and YouTube advertising. De Castro was recruited from the company's European sales leadership team.
Even with an exec already in position to take over Rosenblatt's role, the implications of this departure — and the others — is taking a toll on the company's reputation, if not on actual operations.
Brain Drain
The story line that has been developing for Google is that there is a brain drain under way. Last month, Tim Armstrong left his post as head of Americas sales to become CEO of Time Warner's AOL.
Earlier this month, Sukhinder Singh Cassidy, president of Google's Asia-Pacific and Latin America operations, left to join a venture capital firm.
"People like this are hard to replace, even in a recession," Deborah Armstrong, senior VP of sales and marketing at Mediaspace Solutions, told the E-Commerce Times. Rosenblatt's exit is a particularly tough blow because of his reputation and industry contacts, she said. "He did an amazing job running DoubleClick."
Few outside of Rosenblatt's inner circle likely know the complete circumstances behind his decision to leave — or, indeed, even whether the decision was entirely his.
"The spin is always on about these things," Armstrong remarked, "but if I had to guess, I would say he had been frustrated about his opportunities there. He is probably looking for a company to run" — aleadership role that may not have been attainable at Google.
Death of Banner Ads
Rosenblatt's departure could have been due to a more mundane reason — namely, that the industry is moving away from banner and display ads, David Erickson, director of e-strategy at Tunheim Partners, told the E-Commerce Times.
"It is pretty well accepted that search ads and text ads are far more effective than banner ads," he said.
Try telling that to Google, which has made a hefty investment in this particular business line.
Still, the trend away from display and banner ads will continue and become even more prominent as Web 2.0 content continues to refine, predicted Erickson.
"We are living in on-demand world, getting content whenever and however we want it — and that includes advertising. Banner advertising is now the online equivalent of TV advertising. It interrupts your experience, and people are becoming less and less friendly to that," he maintained.
"Google has invested significantly into the display business with the YouTube and DoubleClick acquisitions — close to $5 Billion, which has yet to show any return," Performics CEO Nick Beil told theE-Commerce Times. Performics was bought by DoubleClick several years ago and was acquired by Google as part of the DoubleClick acquisition.
That said, "I can't think of a better person to make Google a real threat in display than David," Beil continued. "He has a unique perspective on both the buy-side and sell-side of the digital advertising equation."
All is not lost for Google, though. Neal Mohan, the former head of product management at DoubleClick, is still running the company's product strategy for display and will be key to Google's success, Beil said.
Still, "it seems there are some big shoes to fill at Google," he acknowledged. "Google has lost David and Tim Armstrong … , and both execs are capable of extracting buy-side dollars out ofMadison Avenue and sell-side relationships with large publishers."