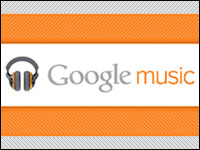 Google announced Tuesday that it is extending its Scan and Match feature for its online locker service to the U.S.
Users with Google Play accounts will get a message asking if they would like Google to scan their hard drives for music. If it finds a match in its own library, Google will add the song to the user's online music collection. The user will then be able to download it or stream it to any Android device.
Best of all, from a user perspective, the service is free. Amazon and Apple offer similar services for a fee.
Users can add up to 20,000 songs, which will then be available for streaming at up to 320 kbps.
'Not a Whimper'
It is not clear what arrangement Google has made with the labels for this service, but it may have paid the music labels upfront for the licensing fees instead of negotiating a per-user structure, as reported by All Things D.
Google did not respond to our request for further details.
The muted response from the music industry is very telling — not only of Google's growing influence in digital music, but also of the changing mindset of the labels, said Rich Hanley, director of the graduate journalism program at Quinnipiac University.
"Google is once again showing it's the alpha dog in the digital cloud pack, as its new Music service launched without so much as a whimper from the usually snarling music industry," he told the E-Commerce Times. "Google is simply using its server firepower to move into the streaming space where the music industry is now firmly lodged."
The critical move here is that Google will upload existing libraries of music that listeners already own, making it easy for people to join, Hanley continued.
In other words, people won't have to separately upload each song.
"Google is clearly making a bid with its Drive and other services to not only own the cloud but to be the cloud for content that may be scattered among different services," he said.
How We Relate to Music
In the bigger picture, Google Scan and Match points to an interesting trend that is impacting not just digital music but all forms of content, said Mike Plugh, a communications professor at Fordham University.
What is happening with Google Play, Apple and Amazon is an electronic evolution of the file cabinet and library, he told the E-Commerce Times.
"Electronic technologies simply move the file cabinet out of the office, the books out of the libraries, and now the music out of the record stores," Plugh noted.
The lines are now blurred between the shelves of the record store and the shelves in a home where a consumer once put those records on display, he said.
"Music was once a shared experience, where people gathered around the piano to sing together," observed Plugh. "Recorded music personalized and individualized the experience, and now we see further manifestation of that change."
Now we acquire personal music collections as we've always done with books, he pointed out, and now those collections can follow us wherever we go.