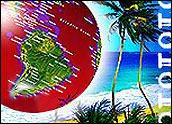 Google has agreed to buy the Frommer's brand of travel publications. John Wiley & Sons, the publishing company that own the Frommer's travel brand, confirmed it will sell all of its travel assets to the Internet giant. The assets have been on sale since March, when the company announced it aimed to shed some of its assets, including travel, culinary, general interest, pets and crafts.
Wiley said it would use the cash from the sale on other assets such as technical, scientific, trade, global education and medical publishing.
The purchase is still underway, according to a report from The Wall Street Journal. Neither company released the financial details of the deal.
Diversifying Google Interests
Google has not indicated how exactly it will fit Frommer's content into its product offerings. The acquisition could be integrated into Google's purchase of Zagat, the site that allows customers to review and rate local restaurants and businesses online. Zagat places a significant emphasis on letting users in the same geographical area share recommendations or deals across mobile apps and social networking.
That possible integration — for content across Google's Android apps or on Google+ — makes the acquisition a logical one, said Steven Frischling, president of The Travel Strategist.
"Google wants to own the content," he told the E-Commerce Times. "By owning the content it can have a hand in steering the content, through steering the content it can drive sales through its own commerce portals. Frommer's gives Google a hand in editorial content and commerce travel revenue."
It's also in an area in which Google has made it clear it wants to make investments, said Frischling.
"Google has been diving itself further into the travel realm, on multiple levels," he told the E-Commerce Times. "This really started with ITA Software and is now manifesting itself in taking on Frommer's."
Getting Personal
The travel industry could prove a smart one for Google to break into, said Zeus Kerravala, principal analyst at ZK Research. The market is full of companies that offer easy booking for flights, hotels and other travel needs, but none can offer the same kind of personalized experience that Google could, he said.
"This could be pretty significant," he told the E-Commerce Times. "There are a lot of Web portals out there that provide basic services, but they don't really give anything personalized. With the kind of information that Google knows, like where you search, Google should have a pretty good understanding of the likes and dislikes of everyone out there. They can take that knowledge, combined with the content from Frommer's, and really offer a highly personalized experience for the whole travel planning."
That's one way Google could separate itself from the crowd even further, he said. Bing, Microsoft's search engine and one of Google's more competitive rivals, in some ways has an edge over Google for travel searches — one of the only areas it does, said Kerravala, but that could change with Google's acquisition.
"There is a segment of the populace that travels often, and this could mean a significant advantage over Bing and Yahoo for travel," he said.
Stifling competition has been a point of contention in the past for Google, however. As the company has diversified and gained business interests in areas outside of search, the company has faced regulatory pressure when rivals alleged that the company pushes its own results in queries.
This time around, though, given the cutthroat competition that already exists within the travel market, Google will be able to offer an experience distinct enough to escape some heat, said Kerravala.
"There's always the possibility of antitrust issues," said Kerravala. "But with this one they'd be a little more protected given how competitive the landscape already is. With their information about what users like and dislike, and now the Frommer's buy, they should have the ability to create a unique travel experience."