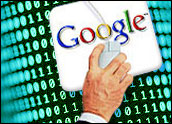 Google on Monday introduced a new social media feature called Helpouts, a real-time channel that's designed to let businesses and individuals give and get help over live video.
Powered by Google's Hangouts video chat platform, Helpouts can be used to offer instruction in a wide range of areas, from fixing a garage door to removing a computer virus to speaking conversational French. In an introduction accompanying their Helpout offerings, experts spell out their qualifications, availability and price — many Helpouts can only be accessed via a per-minute cost. The Helpout can then be booked in advanced or, if available, offered for connection immediately.
Google is launching Helpouts with a small cadre of experts, but it said it plans to ramp up to include other people and categories. It will take a 20 percent cut on each transaction. Brands already participating in the initiative include Sephora, One Medical, Weight Watchers, Redbeacon and Rosetta Stone.
"Once you're in a Helpout, you can do more than just talk — you can share your computer screen, collaboratively edit a presentation, or record your Helpout," said Udi Manber, a Google vice president of engineering. "If the experience doesn't meet your expectations, we offer a full money-back guarantee."
Myriad Business Uses
Among the Helpout categories covered at launch are Home & Garden, Computers & Electronics, Health & Counseling, Nutrition & Fitness, Fashion & Beauty, Art & Music and Education, Google spokesperson Iska Hain told the E-Commerce Times.
"We're excited to see all the ways people will use the platform to give and receive help," Hain added.
Expect to see people using the Helpouts to demonstrate products, teach yoga and troubleshoot computer issues, among other things, said B.L. Ochman, a Google+ Coach whose own Google Helpout went live on Tuesday.
'A Little More Hands-On Training'
In Ochman's case, the Helpout is geared to agencies and brands, she told the E-Commerce Times — but that's not always the case.
With their real-time interactivity, Helpouts fill a gap in the online self-help space that YouTube has not been able to fill, said Amit Wadehra, vice president and digital strategist at Ketchum Digital.
"Sometimes a little more hands-on training is needed where learning via one-sided demonstration isn't enough," Wadehra told the E-Commerce Times.
"Helpouts has the power to be revolutionary by globalizing very localized services like health services, veterinary services, counseling and education," he continued.
To give another example, "tutors can offer their services to supplement classroom teachings," he suggested. Other obvious applications include "music lessons, beauty tips, cooking, computer help, fitness and home repair."
Still an Experiment
Local service providers that don't have the tech chops to participate in this market may be dismayed by Helpouts' rollout, especially when they get a gander at the per-minute pricing model — which could easily become more attractive than, say, a US$150 service call from a plumber.
However, that threat is not imminent — much still depends on consumer acceptance.
"Consumers will likely proceed with caution as Helpouts has many similarities to the early days of e-commerce," Wadehra pointed out.
Market forces will determine prices consumers are willing to pay, he noted, probably in a manner similar to how eBay's ratings and reviews determine winners and losers in that market.
Also, the quality of the stable of experts will surely figure prominently in Helpouts' ultimate success.
"Receiving a golf lesson from Tiger Woods' former coach, Hank Haney, is very different than visiting your local pro," Wadehra said.
'A No-Risk Option'
In the worst-case scenario, the feature could develop a bad reputation if there is a high-profile incident stemming from some bad advice provided by a Helpout expert, suggested Dan Roche, vice president of Marketing at TalkPoint.
"I realize that early on they are limiting expert involvement to maintain a controlled environment, but the pessimist in me sees a huge risk issue as they move forward and open up the restrictions to those presenting themselves as experts," Roche told the E-Commerce Times.
Google, meanwhile, is stacking the deck as much as possible in its favor with the money-back guarantee, Wadehra noted: "Google is providing a no-risk option to get some help."