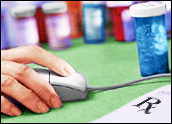 Mississippi Attorney General Jim Hood has called on his counterparts in other states to join him in confronting Google for not doing enough to prevent illegal online activities including the sale of prescription drugs by rogue pharmacies and the spread of pirated content.
Hood invited Google CEO Larry Page to discuss his concerns but did not receive a response, he said in a statement issued Tuesday.
Consequently, the state had no choice but to issue subpoenas to examine the company's records and emails and determine whether its policies violate any consumer protection regulations.Hood encouraged his fellow state attorneys general to follow suit.
In addition to Google display ads, other features — such as the autocomplete tool that predicts search queries — help enable the sale of illegal prescription drugs, Hood maintained.
Further, Google intentionally ignores reports of rogue sites pirating contraband music, movies, software and games, he added.
Google takes down content that praises Nazi activity in its German domains, or content that slams religion on Google.co.in, observed Hood, so the company also should be able to abolish rogue online pharmacies.
Hood's staff declined to provide further details.
No Magic Bullet
Scrubbing pharmacies that engage in illegal prescription sales from search results isn't an easy job, noted Google Legal Director Adam Barea in a public policy blog post.
Google has already gone to great lengths to curb the illegal sale of prescription drugs online, he added. For example, Google monitors drug-related videos on YouTube and maintains strict policies governing which pharmacies are allowed to run ads on its sites. It also highlights the Center for Safe Internet Pharmacies, causing it to appear in search results any time someone searches "online pharmacy" on Google.
Google has made thousands of referrals to law enforcement regarding suspected illegal pharmacy operations online, Barea pointed out.
Its efforts have led to a 99.9 percent decline in illegal drug and pharmacy ads since 2010, based on findings by LegitScript, he said, and they have resulted in the blocking or removal of more than 3 million ads suspected of promoting illegal drug sales during the past two years.
Google did not respond to our request for further details.
The Internet Jungle
It's difficult to argue with Hood that certain digital content could be violating the trust and rights of the consumer, said Roman Tsibulevskiy, an attorney withGoldstein Patent Law.
"People are uploading illegal content or trying to perform illegal activity on the Internet 24 hours a day, seven days a week," he told the E-Commerce Times.
The Internet is an untamed wilderness where illegal content can find room to grow despite Google's best efforts to block it, said Eric Chiu, president and founder of HyTrust.
"Blocking access is hard since IP addresses will constantly be changing," he told the E-Commerce Times.
Fighting Back
Regulating online content — even for a company with resources as vast as Google's — is nearly impossible, and that could be the company's biggest defense if this should escalate into a legal battle, said Tsibulevskiy.
"There might be more that Google could do," he acknowledged, "but it can't come in the form of an impractical or billions-of-dollars solution dreamt up by the state attorney."
Hood does not seem to be targeting other search engines like Bing or Yahoo, Tsibulevskiy also pointed out. If that's because those engines have better mechanisms in place to block out offensive or illegal content, it could work in Hood's favor, since Google might then be forced to address what its rivals are doing better. However, if Hood is simply going after the most high-profile name, that could work in Google's favor.
It could be a long time before Google will be forced to answer any questions in the matter, though, Tsibulevskiy noted. Even if subpoenas have been issued, that doesn't mean it's going to court. Given the company's lengthy public response to the matter this week, it will likely fight those subpoenas in any case.
Even if it were forced to hand over information, the burden of proof would still be with Hood, Tsibulevskiy added.
"A subpoena is just getting to know more information about something, and Google's going to fight back against that," he predicted. "Google has so much money and some of the best lawyers, and they're going to force the state to really have to prove that they're doing something wrong. Ultimately, most legal issues that arise with Google deal with free speech, so the site can always say that if you don't like it you don't have to use it."