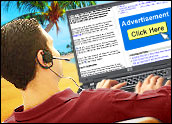 It has been clear for some time that consumers are using multiple devices to access the same content. Sometimes they will access a particular piece or type of content only from a mobile device — say, a website optimized for mobile news while commuting to work on public transportation.
Sometimes they will shift from screen to screen as circumstances call for — seeing an ad on television and then looking up the product for more information on a tablet.
Sometimes they will use multiple screens at the same time, like when the Super Bowl is on. People's eyes are firmly glued to the TV's big screen for that event, but as many marketers have learned, they are certainly willing to turn their attention to their cellphones at the same time to either look up game stats or send and receive texts about what they are watching — including the highly-anticipated ads.
Google, among other firms keenly interested in how consumers digest content, has been tracking this behavior, and it's identified some trends — especially regarding the way these devices work together — that may be of interest to marketers.
9 Out of 10 Ain't Bad
Google found that nine out of 10 people use multiple screens sequentially, usually a smartphone device is the starting point, and it almost always occurs within one day. Google found that 98 percent of sequential screeners move between devices in the same day to complete a task.
It also found that, as even the Super Bowl has shown, TV no longer commands undivided attention. Some 77 percent of viewers watch television with another device in hand, oftentimes searching for information on something they have just seen.
It's a Brave New World
The upshot is that consumers' engagement patterns are changing, and in some surprising ways, James Green, CEO of Magnetic, told the E-Commerce Times.
"Instead of driving consumers directly to brick-and-mortar stores, television has become a catalyst for driving consumers online to e-commerce sites, social networks and content sites," he said. "And the portability of smartphones and tablets takes this action one step further, allowing consumers to search, shop, browse and research at any hour of the day, no matter where they might be."
A Consistent Message
For marketers, the findings suggest several strategies that must be put in place, if they haven't been already, Daryl Colwell, VP of business development at MediaWhiz, told the E-Commerce Times.
"You need to have a consistent message throughout all the channels from online to television to email," he said.
Marketers also have to be a lot faster and more concise in their messaging with so many people access content via a small screen. "You want to hit them with an offer right away. Don't make them wade through a lot of content to get to the offer," he said.
Perhaps most fundamentally, marketers have to assume that anything designed for online will be read by a smartphone — and optimize accordingly. "We do a lot of email marketing, and on any given day, between 20 percent to 50 percent of our emails are read from a smartphone. Marketers have to get smart about how they design their messaging."
These trends are only going to accelerate, Green said. Sequencing and frequency will play a larger role in the ways ads are served to consumers, he said. "In an ideal world, consumers should see succinct messages as they travel across screens." The good news, he added, is that "this type of sequential messaging will create deeper connections between consumers and the brands that they trust."
Google did not respond to our request for further details.