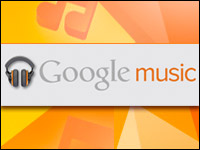 In an effort to compete in the digital music market against giants Apple and Amazon, Google debuted its online music store Wednesday, where users can purchase and stream songs through the search giant's Android market.
It also opened its free online music locker service to all users.
Google Music will use cloud storage space and an emphasis on sharing via its social network, Google+, to differentiate itself from competitors such as iTunes and Amazon.
At its start, the music store will offer about 13 million songs from labels including EMI, Sony Music and Universal. Notably missing from that group is Warner.
Some of the songs are free, but most cost between 69 US cents and $1.29. They're purchased via the Android market, which already offers apps, e-books and other digital entertainment content. Google is teaming with T-Mobile, allowing customers of that carrier to purchase songs via their wireless bills.
Once a user purchases a song, it can be shared via Google+, where the buyer's friends can listen to the song once for free.
The service is also trying to focus on unsigned, independent artists. For a one-time fee of $25, a musical group can upload their content to the site, displaying their music and additional information, such as videos, images, bios and other data. Those artists can name their own prices for the content and will receive 70 percent of sales.
Not the Revolutionary Force Artists Were Hoping
Although Google's new music store provides producers with another channel through which to sell their music conveniently to listeners, critics say the service brings few new elements to the table.
"I don't believe there is anything in Google Music that is particularly revolutionary. Google are one of the most powerful and disruptive forces on the Web and yet they have opted for the easy, unadventurous option here," Mark Mulligan, independent consultant and analyst on digital entertainment, told the E-Commerce Times.
Rather than going outside the model that iTunes created and dominated — such as launching the service across its already solidly in place Android handset devices, or working its dominance in search into a music service somehow — Google instead launched a similar product, he said.
"It is a shame that all Google have done is launched a me-too iTunes offering," said Mulligan.
Without the kind of ecosystem that Apple has in place, though, the service can't expect to do as well as iTunes, he explained. Google runs on an open ecosystem, whereas Apple operates across a closed platform of multiple devices such as iPods, iPads and iPhones, where music and podcasts are being downloaded and used across any or all of the user's devices.
With the absence of one major record label, though, Google Music also doesn't have the same content offerings that iTunes or Amazon has.
"It was probably a little bit much to expect them to completely break the mold. I think at this point without the Warner catalog, it's still kind of a work in progress. They've got to fill that hole pretty quick," Mike McGuire, vice president of media research at Gartner, told the E-Commerce Times.
Google + Music
One way Google Music hopes to fill a hole with through its connection with Google+. Most music sharing on Facebook and other social networks is currently done through links to other sites that stream music, and Google hopes that sharing within its network can be its breakout factor.
"They highlighted Google+ and that has the potential for 40 million really interesting transactions," said McGuire.
Though Google+ has the users, it doesn't appear to be on a trajectory to eclipse Facebook any time soon. Even though the songs from Google Music might be posted on the site, it might not get as many eyeballs as even a featured song on iTunes would.
Another area where Google Music wants to differentiate itself is by teaming with independent artists. Even there, though, if the site doesn't actively curate the music, it could get overwhelming for the average user trying to sift through thousands of homemade or amateur tracks to find something to their taste.
"It could be an interesting differentiator, but it would require a little bit more than just uploading the music. Unless there's some way for it to be designated, and they take the time to curate and create a distinct new artist category, it might not see much revenue," said McGuire.