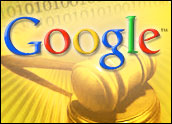 Google is contesting the right of UK Safari users to bring a case against it in the UK, according to a statement from the plaintiffs' law firm.
To emphasize its stance, in fact, the search engine did not accept notice of the lawsuit in the UK but forced the plaintiffs to file in California instead — a jurisdiction in which their case, which alleges privacy violations, is much weaker.
The plaintiffs filed suit in January seeking damages for Google's alleged bypass of Safari's security settings. This allowed Google to track their usage online, the plaintiffs claim.
"Google's position on the law is the same as its position on tax: they will only play or pay on their home turf," said Judith Vidal-Hall, one of the claimants. "What are they suggesting — that they will force Apple users whose privacy was violated to pay to travel to California to take action when they offer a service in this country on a .co.uk site?
"This matches their attitude to consumer privacy," Vidal-Hall added. "They don't respect it and they don't consider themselves to be answerable to our laws on it."
Google declined to comment for this story.
One Research Study, Lots of Trouble
The issue at hand first surfaced for Google in February 2012, when Stanford University graduate student researcher Jonathan Mayer found that Google had circumvented privacy settings on iPhones and iPads and was tracking users of these devices — contrary to what it said in its privacy policy.
That same month, the UK's Information Commissioner's Office announced that it was investigating whether or not Google had broken UK law — namely, the Data Protection Act and the Privacy and Electronic Communications Regulations.
The Federal Trade Commission also investigated the issue, which resulted in a settlement for a whopping US$22.5 million — the largest ever levied by the agency.
The suit was filed by UK law firm Olswang LLP at the beginning of the year on behalf of 12 claimants. The case is becoming a Group Action, which similar to class action in the U.S., according to the law firm's website.
A Deaf Ear
This suit is still in its early days, but Google's approach to date suggests the search engine is tone deaf when it comes to the rising protests in Europe against its attitude toward privacy.
"Basically, Google has been thumbing its nose at the EU about its privacy policy from the very beginning," Scott Cleland, president of Precursor LLC, told the E-Commerce Times.
Precursor has several Google competitors for clients.
In general, Google's approach to global litigation is very aggressive, Cleland said: "They don't question their own actions or try to compromise. Their MO is to take no quarter and push their own agenda relentlessly."
Not that Olswang and the claimants are rolling over on this issue. According to the law firm's website, the firm intends to push for a hearing to discuss the jurisdictional issues, "and the outcome of that hearing will determine whether or not the case moves forward."