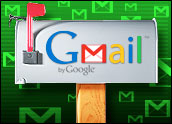 Google is integrating its Google Drive cloud storage service with Gmail, letting users send files 400 times larger than previously allowed.
Gmail now will send links to files up to 10 GB stored on Google Drive from inside the Gmail interface.
Additionally, since the file itself isn't transferred but remains stored in Google's cloud, only one copy of it exists. Saves made to the attached file after the email is sent will be reflected in the version recipients access later.
Permission Check
Google also put privacy protections in place for the new feature. Before the file is sent, Gmail will make sure all recipients have permission to access it. If someone is not authorized, Google will prompt the sender to change the privacy settings or remove that person from the recipient list.
The new feature requires that users already are opted in to the new Gmail user interface. Those who haven't already done so must opt-in to the new window view by selecting "new compose experience" in the compose section. In the new tool bar, there is a Drive icon next to the attachment option. By clicking on that icon, a sender can insert a link to any file they have stored on Google Drive.
Google did not respond to our request for further details.
Gmail Takeover
Google's integration of its cloud storage services into its e-mail functions is a smart way to remind users how capable Gmail can be for a variety of uses, said Greg Sterling, founder of Sterling Market Intelligence.
"Google is generally trying to add utility to Gmail and raise awareness of Google Drive among Gmail users simultaneously," Sterling told the E-Commerce Times. "Gmail is now reportedly the largest Web-based email offering."
Gmail's long reach, combined with efforts to make it as functional as possible, won't be enough to wipe out the cloud storage competition, but it could give Google a significant edge over some of the companies that don't offer combined storage and e-mail services, however, said communications technology expert David Strom.
"I think what Google is doing, by adding a quick way to attach large files to Gmail messages, is just the next step in their world domination plan," Strom told the E-Commerce Times. "We routinely see these large files that can't pass through e-mail easily, and Microsoft has something similar for a while with the combination of Skydrive and Hotmail. Will this mean the end of DropBox et al? I don't think so. But it's nice to see."
Moving Toward Cloud
More than anything, though, the Gmail upgrades indicate the company is aware of how important cloud integration will be in the future, said tech analyst and consultantJeff Kagan.
"Google Drive is the next generation of Google," he told the E-Commerce Times. "Yesterday we stored all our information on our computers. Today, things are different. Today we use multiple devices like computers, tablets and smartphones. Today we want to collaborate with others on certain files. So the technology has to change, as well. The way we store and access our information has to change. Google wants to become your hard drive on the cloud for all your devices."
That doesn't come without risk, Kagan pointed out. People have concerns about security breaches or hacking within the cloud, and cloud storage hasn't won over the mainstream consumer market yet.
With plenty of enterprise customers already on board, though, and Google moving to offer cloud features in its email service, the time is right for the company to push more widespread adoption of the cloud.
"This kind of service or product makes sense for both consumers and businesses," he observed. "Many large businesses already use this kind of cloud-based service. Google Drive brings the same kind of service to the mainstream, both consumers and small businesses. It's going to take awhile, starting with the early adopters, but over the next several years, wave after wave of customers are going to give it a try."