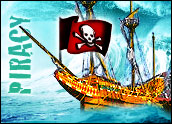 Google has updated its Transparency Report to include requests to take down URLs that contain copyrighted material. Such requests, made by content owners or their representatives, are at the heart of the Digital Millennium Copyright Act.
Until now, Google has only publicized government requests to remove content; the new data provides an interesting glimpse of which companies are crying foul over the unauthorized posting of their intellectual property.
Microsoft Made the Most Requests
The top copyright owners requesting material to be removed from Google search in the past month were Microsoft, NBC Universal, BPI (British Recorded Music Industry), porn site Elegant Angel and RIAA member companies.
As of May, the time it takes to process a request is approximately 10 hours, on average. Google attempts to notify users when it receives a takedown notice in order to submit a counter notice, but that is difficult if there is not an obvious way of contacting a webmaster.
Some Inappropriate Requests
Google removed 97 percent of search results specified in requests that it received between July and December 2011. In certain cases, some of the requests it received did not meet DMCA's criteria, it said.
For instance, Google told of receiving a request by a U.S. company to remove search results linking to an employee's blog posts about unfair treatment at the company.
It has received requests from multiple individuals in the U.S. requesting removal of search results that link to blog posts and Web forums associated with their names.
Some of the takedown requests appear to have been egregious attempts to censor information. A major movie studio requested twice, via a representative, to have a movie review taken down from a major newspaper website.
Also, a driving school in the UK asked to have a competitor's home page taken down, citing as a reason that the competing company had copied an alphabetized list of cities and regions where it offered instruction.
Getting Ahead of the Criticism
It is not difficult to figure out why Google published this additional data, said Christopher M. Collins, an attorney withVanderpool, Frostick & Nishanian.
"I see this as an effort from Google to get ahead of some of the criticism they're receiving about piracy," he told the E-Commerce Times.
Indeed, the problem of ever-proliferating piracy was the driver behind a bill that was eventually killed, Stop Online Piracy Act (SOPA), which the tech community hated.
Who Benefits? Google, if Requests Diminish
"Google and YouTube bear the biggest burden in complying with takedown notices," said Maurice Ross, a partner at Barton.
By publishing them, there could be a chilling effect on companies that may be more reluctant to file the paperwork now that they know it will be made public, he added. "I find it interesting that Google thinks it is consistent with DMCA to publicly disclose these requests. I am not so sure Congress intended for these to be public records."
Essentially, "Google doesn't want to assume the costs and responsibilities associated with being a publisher," Ross concluded.
On the other hand, "I don't see how these requests are protected or confidential information," said Collins. "I think people should assume if they make this kind of request, it will become public."