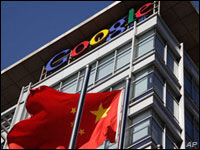 China has renewed Google's Internet Content Provider license, according to David Drummond, the company's senior vice president of corporate development and chief legal officer. With this step behind it now, Google will be able to continue to provide Web search and local products to users in China.
The question of whether Google would be able to operate at all in China — months after it announced it would cease censoring its search results there — was raised in June when Google suddenly announced it was changing the way it provided Internet access to mainland China users.
Instead of automatically redirecting them to its Hong Kong site at Google.com.hk, it sent them to Google.cn — which offers a link to the uncensored Hong Kong site.
The reason for the move, Drummond wrote in a blog post, was that it looked as though China was going to reject its application to renew its license to provide Internet content in the country, which was up for renewal on June 30.
Google had begun directing mainland users to its Hong Kong page earlier this year when it was unable to come to an agreement with the government on its censorship policies.
In reality, the move did little for mainland users. While they were able to pull up links to sites or search results forbidden in China, they were still blocked from actually connecting to those sites by China's censors.
Unclear Even at Ground Level
It was unclear whether Google's workaround would have the desired affect. China has shown little willingness to curry favor with even the largest of foreign conglomerates, and Google has been no exception, Rob Enderle, principal of the Enderle Group, told the E-Commerce Times.
The fact that China approved the license could be a good sign, he said — or it could be that someone, somewhere in China's highly compartmentalized government got a signal mixed. Another possibility, he said, is that Google might have quietly made additional concessions. If that is the case, chances are good Google's senior management might not even realize it. "Especially when you have China nationals representing a foreign company negotiating with Chinese bureaucrats, all kinds of promises get made during the give and take." For the same reason, it's equally possible that the Chinese government thinks Google might have made some concessions, while in fact it didn't, he added.
"Doing business in China is an incredibly complex, delicate process. You have to take everything into consideration," he said. Without evidence to the contrary, though, it's best to take this latest development at face value, he continued. "Let's just assume Google is dealing with China more effectively and relations between the two are warming as a result."
Growing Complaints
It is not just Google, though, that has come up against the Chinese government — complaints are coming from other foreign companies that the business environment there is growing more and more inhospitable, said Randy Kluver, executive director of the Institute for Pacific Asia at Texas A&M University.
In light of that, Google's workaround — and the government's seeming acceptance of it — is a very happy compromise, he said. "Everyone saves face this way — Google doesn't have to give up its core principals, and China's law was respected," he told the E-Commerce Times.