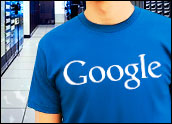 Google is stepping up its game in the battle for cloud supremacy by slashing prices and beefing up the services it offers with Compute Engine.
The Infrastructure as a Service product was first announced at Google's I/O show in June and is currently available in a preview version. Google hasn't set an official launch date, but it announced updates Monday to Compute Engine and several of its other cloud products.
The company is cutting prices for its cloud storage by more than 20 percent in some cases and giving users the option to trade lower data availability for lower prices.
More Instances
Compute Engine also getting 36 additional instance types, with different combinations of virtual cores, memory and disk type. Previously, the product had four available in the server catalog. The price of those initial four will drop by about 5 percent.
The updated Compute Engine also features Persistent Disk Snapshotting, which enables users to create a backup disk of information and easily transfer it around Google data centers.
The new cloud offerings offer higher-performance instances optimized for applications that require more memory or processing, and reduced pricing for lower storage space.
Taking on Amazon
The upgrades to Google's offerings place it in a cloud category close to that of rival Amazon, whose servers have more CPU and memory power.
Google's moves with this upgrade, though, could put it in a better spot to compete, especially among clients looking for aggressive pricing, said Larry Carvalho, owner of RobustCloud.
"Amazon has a big head start here, but it's possible that Google can catch up," Carvalho told the E-Commerce Times. "Pricing is not going to be an issue with enterprises, so in the short term the main draw for Google Compute Engine will be with startups."
Speed is one way Google could gain an edge over chief rival Amazon, said Krishnan Subramanian, principal analyst at Rishidot Research.
"Google is pursuing the cloud infrastructure strategy aggressively," Subramanian told the E-Commerce Times. "I had a chance to check their service out, and it is blazing fast compared to Amazon Web Services. If they can maintain this performance once they make it generally available, then it will help them gain market share."
Still, Google needs to recognize what kind of customer will make up the bulk of its revenue and push more resources into meeting the demands of that clientele.
"I am disappointed with how Google is pushing Google App Engine, and if they take the same hands-off approach to Google Compute Engine, they cannot compete effectively with Amazon. They need to focus more on reaching out to developers and talking to enterprise IT."
Emerging War
Google isn't the only company that must rally its troops to take on Amazon in the cloud scene, said Subramanian. Cloud services are becoming an integral part of any tech giant's product offerings, and a battle for the top is brewing. That top spot is still up for grabs, though, and it might be taken by someone unexpected.
"I don't like the term 'Cloud War,' but if we have to use the term, yes, it is inevitable," he observed. "I don't see the market to be dominated by handful of cloud providers like Amazon, Google, Microsoft and others. Rather, I expect a more competitive market with many providers competing in the space due to the availability of open source software like OpenStack and CloudStack."
The competition will only be good for consumers, said Carvalho, especially if it can lead to innovative, affordable products.
"With large existing companies like HP and IBM unable to compete with Amazon, it is always good for customers to have an alternative," he said. "Compute Engine improvement is a positive development for the industry."