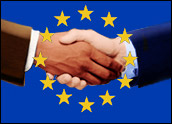 The European Commission and Google could be nearing an agreement after the search giant offered new concessions Tuesday to help resolve the EU's antitrust concerns.
A representative from the EU did not divulge what Google proposed, but said that technical discussions would follow, according to Reuters.
The concerns stem from EU Competition Commissioner Joaquin Almunia's announcement last May that the EU was concerned Google unfairly favored its own online searches for services such as travel, weather and restaurants, damaging its competition in the process.
Some of those search results might have been copied from other websites, the EU alleged.
Almunia also expressed concern that Google's advertising services required advertisers to display all or almost exclusively Google ads, effectively cutting out the ads of competitors.
The concerns from the EU came after a two-year investigation into the search engine, which has about a 90 percent market share in many of the major European markets, higher than Google's U.S. market share of about 70 percent.
Policy makers in the U.S. have also expressed antitrust concerns about Google. The company defended itself at a Senate hearing last fall, but that meeting did not result in the same kind of demands that the EU has made of Google.
To resolve the EU's concerns, Google reportedly modified some of its concessions, and the two are nearing a deal.
Battling the EU
Google is not the first U.S.-based tech company to face EU scrutiny over antitrust issues. When Microsoft held more of the software market, it was the subject of a long antitrust investigation that ended with the company being slapped with close to US$2 billion in fines.
Intel was the target of an eight-year investigation that resulted in a $1.33 billion fine for the chipmaker after the EU said it hindered a rival company.
As for the investigation into Google, Microsoft was among the search businesses that complained to the EU and other regulatory agencies about Google's Web presence. Microsoft said Google's search results discriminated against its sites and products.
Google may have learned something from watching rival Microsoft and other tech companies try to take on European regulators, said Michael Reynolds, leading statesman in antitrust at Allen & Overy. It has attempted to work as closely as possible with the EC rather than wage a full-on battle.
"Google is approaching the case in a much more collaborative way than was the case, say, with Microsoft or Intel," Reynolds told the E-Commerce Times.
Not Up for Litigation
That cooperation means some type of agreement in this case is more likely than Google incurring heavy fines like Microsoft or Intel, said Reynolds.
"I think a settlement is very likely as the Commission knows it has a difficult case raising new legal issues which go beyond existing precedent, and may well prefer to settle and not go to a full decision," he said.
Especially in such a fast-paced market, another decade-long investigation or even the few years it could take to research and file a court case would have severe consequences.
A settlement that will change Google quickly is better for both parties, said Michael Carrier, law professor at Rutgers School of Law.
The endeavor would also be incredibly costly for Google, he told the E-Commerce Times, and making concessions now might be better for the company's bottom line. "I think it's in both sides' interests to settle, given how burdensome such an inquiry could be for Google and how quickly the market is changing for the EU."