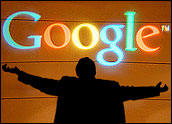 Google, until recently a piker in the patent-holding tech community, is rapidly beefing up its portfolio — or arsenal, depending on how one views it — of intellectual property.
The company has acquired 1,023 patents from IBM, according to the U.S. Patent and Trademark Office website, a transaction first reported by tech blog SEO by the Sea.
These patents are on top of the 1,030 Google acquired from IBM in July, not to mention the 17,000 plus it will gain from its acquisition of Motorola Mobility Holdings, a US$12.5 billion deal.
Defensive positioning against patent litigation appears to be the main driver behind this buildup, although Google also could be plotting its own patent suit offensive.
Google did not respond to the E-Commerce Times' request to comment for this story.
First Weapon of Choice
Other tech companies have been scrambling for patents as well. In June, for example, a consortium of six major tech players calling themselves "Rockstar Bidco" won a $4.5 billion bid for 6,000 Nortel patents.
The Department of Justice is reportedly looking into the deal to see what the consortium members — Apple, Microsoft, Research In Motion, Ericsson, Sony and EMC — plan to do with the patents.
Indeed, patents have become the first weapon of choice for tech companies looking to maintain a competitive edge, especially in the mobile space.
Consider Samsung's not-so-veiled threat of a countersuit after Apple won a preliminary injunction against against its Galaxy Tab 10.1 in a German court:
"To defend our intellectual property rights and protect our freedom to innovate, Samsung will take all available legal options including continuing to aggressively pursue Apple Inc. for its ongoing violation of Samsung's wireless technology patents around the world," Samsung said in a statement provided to the E-Commerce Times by spokesperson Kim Titus.
Detente, Finally?
As companies continue to build out patent portfolios — often acquiring these assets with little knowledge of what exactly they comprise — there is at least the suspicion that the tech industry is heading for detente — peace achieved through the promise of mutually assured destruction, in Cold War jargon.
In short, these firms are accumulating so many patents, they might be able to inflict harm upon each other in equal measures.
Google appears to be jockeying for this position, Peter Toren, a partner with Shulman Rogers, told the E-Commerce Times.
"That is the way all of these companies are headed," he said. "The thinking among these companies is 'if you sue me, we have a large enough portfolio that we can find something for which to sue you.'"
Because Google is relatively new to the tech industry, until recently it had the smallest portfolio and was the most vulnerable to these tactics, Toren said. "I think this last series of acquisitions, especially the Motorola Mobility deal, has solidified its position, however."
Maybe, maybe not — but Google would be foolish to slow down, said Jake Holdreith, a partner and patent litigation attorney with Robins, Kaplan, Miller & Ciresi.
"I think the patent disputes will get hotter and proliferate before there is any kind of detente or large-scale agreement," he told the E-Commerce Times. "We may ultimately get there, but right now it looks like there is more appetite to try to carve out some exclusive market segments based on patent rights."
A Heavy Price
Ironically, the use of patents as a weapon — as opposed to fostering innovation — will eventually lead to, yes, more innovation, Holdreith predicted.
"Just as market competition between iPhone and Android creates new technology and consumer choice, the need to avoid a competitor's patents and to invent new patentable technologies will likely create new technologies and consumer choices," he said.
In the meantime, though, smaller companies will be paying a price for the litigation, said Jonathan Askin, a professor with Brooklyn Law School.
"It's all well and good for the big boys to establish a playing field based on the principle of mutually assured destruction, in which they dare not file patent suits against one another," he told the E-Commerce Times. However, "this 'detente' does nothing to give the smaller startups the comfort they need to know that their innovative businesses and ideas are not running afoul of some larger company's patent portfolio."