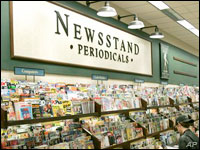 Google's new aggregated media app, Google Currents, launched Thursday with about 150 media partners.
The system allows users to choose the content they want and arrange it as their own "social magazine" on a tablet or mobile device.
The app is similar to Flipboard, a popular iOS app. The companies behind these apps hope to create digital versions of magazines loaded with content the user chooses; available anytime, anywhere; and containing material that traditional publications can't, such as interactive features or video.
Digital Partners
Google Currents also rivals Yahoo's Livestand, AOL Editions and Pulse. Unlike Flipboard, though, which only functions on iOS, Google is available both on the iOS and Android platforms.
Partners include a wide variety of news and entertainment sources, such as Forbes, Fast Company, Al-Jazeera English, Slate, PC World, The Atlantic, AppleInsider, The Consumerist and Zagat. Users can also add RSS feeds, video feeds, Google+ information and more personalized content.
In addition to its established partners, the Google Currents app includes a self-service platform. Outlets such as non-profits and regional media outlets can use the platform to create digital content.
Right now, Google Currents appears to only be available in the U.S., which led to many negative comments on articles about the app and on social media. Google didn't respond to our requests for comment.
So Far, So Good
Other reviews weren't so negative. Gizmodo, one of the partners that publishes on Google Currents, titled their review on the app "Google Currents Might Be the Coolest Thing Google Has Ever Made." The article called it easy to use and praised it for being available on multiple platforms.
Other reviews and comments praised the app's design and its ability to remain simple even though multiple content options were available.
However, its ease of usability doesn't necessarily mean it's going to instantly change the way tech users consume media content, or even that it will prove a worthy rival to Flipboard, according to Sonia LaFountain, COO at CARMA International.
"In my personal opinion, it doesn't seem revolutionary, just another platform," she told the E-Commerce Times.
The Way We Read
"We think there's still plenty of momentum. We're projecting that the digital industry will grow at a double digit rate for the next five years," Pete Wahlstrom, analyst at Morningstar, told the E-Commerce Times.
Though it's not the way in which media outlets traditionally cash in from news production, those partnering with Google Currents, Flipboard and others are trying to squeeze profit however they can in a tight economy, he said.
"As with other Google initiatives they will get a big piece of the pie, but anything that helps their end goal to get more users online with Google will benefit them," said LaFountain.