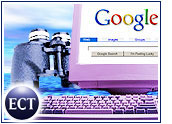 Rapidly expanding search engine Google has launched a blitz of overseas initiatives, establishing local news search services in Canada, the United Kingdom and Australia.
Google co-founder Larry Page said the country-specific news sites willintegrate a "global perspective" with increased coverage of local news, enabling Web surfers to "track topics of local interest, as well as those from around the world."
The effort is an attempt to build on the early success of Google News, a U.S. service that aggregates thousands of news stories from about 4,000outlets and uses computer algorithms to rank and categorize them. Google News is still in the beta stage, but some analysts have speculated that it could help alter how consumers find news.
The Eyeball Game
For Google, attracting consumers is the first step toward turning its rapid growth into long-term profits.
"So far, everything they've done has been pretty much on the mark, and that's putting pressure on competitors," US Bancorp Piper Jaffray analyst Safa Rashtchy told the E-Commerce Times.
He added that the company's news feature taps into one of the Web's great assets — the ability to erase geographical barriers and consolidate information from myriad sources in one location.
Big Apple
Meanwhile, Google said it has begun hiring for a New York-area office, a move aimed at enabling it to tap into a talent pool it is not reaching from its California base. Google said it will hire about 100 employees for what will become its East Coast headquarters.
Google has been hiring steadily throughout the economic downturn, and its rapid growth has led many to speculate that it will be the next blockbuster Internet-related initial public offering. But executives have remained tight-lipped about that possibility, which may reflect the market for IPOs more than the company's readiness, analysts say.
Mixed Messages
The timing of the announcement helped underscore Google's advances and the competitive threat it poses. Last Thursday, Overture, one of Google's main rivals, announced plans to cut 100 jobs, though the company said those cuts are largely due to integration of recent acquisitions.
Speaking to analysts, Overture CEO Ted Meisel said the layoffs reflect "solid progress" in integrating the acquisitions of AltaVista and FAST.
In fact, Overture said it expects strong growth in the next year, with earnings projected to double in 2004. Meisel also said the Internet search and paid listings market, which both Google and Overture are targeting, is set to explode, growing to a $15 billion-a-year industry by 2008.