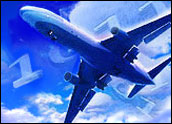 Google has announced plans to buy ITA Software, a major provider of airline travel software, for US$700 million.
ITA is a prominent player in its space — it counts among its clients virtually all of the major Web travel information and booking providers, including such airlines as American and Continental as well as several aggregators like Hotwire, Kayak, Orbitz and Microsoft's Bing.
For that reason, there are widespread questions regarding whether the deal will pass muster with antitrust authorities.
Google says it plans to honor all the agreements the firm has with its customers and does not intend to sell airline tickets.
Instead, CEO Eric Schmidt said, the company plans to build new flight and fare search tools for travelers.
Several Suitors
Nonetheless, the deal, which has been making the rounds in the rumor mill for weeks, clearly has many providers in the travel industry worried. Kayak, for example, tried to buy ITA itself, according to a Reuters report.
Other reported bidders included Expedia and Travelport.
Certainly Google is bracing for a rigorous antitrust review. In a conference call, Schmidt declined to speculate when it may possibly close. Indeed, Google appeared to have been taken aback by the difficult review it faced with its AdMob acquisition. When Google first announced the deal, it was aware the purchase would be subject to regulator review; however, the Federal Trade Commission almost didn't approve it. It relented only after Apple announced the creation of a potentially competing service, iAds.
Growth Search Category
Why, then, would Google want to put itself through that again? It's simple, Scott Testa, a professor of marketing at Cabrini College, told the E-Commerce Times: Online travel is a growth category for Google. Indeed, according to Caris & Co., statistics travel-related searches account for as much as for 10 to 12 percent of Google's revenue.
In general, Testa said, "online travel is big business. Most people book travel on the Web, which gives Google a very nice potential customer base for whatever tools they want to develop for this space."
Value Add to a Complicated Search
Assuming it goes through, the acquisition presents Google with the opportunity to forge entirely new business models or online tools for this space, Mike Jude, an analyst with Frost & Sullivan, told the E-Commerce Times. "There is the potential for new services that we haven't even thought of yet," he said. Even if Google doesn't create something significantly different from what's around now, he said, the ITA acquisition "definitely adds value to whatever collective services Google wants to build."
In a blog post, Forrester analyst Henry Harteveldt speculated as to what the ITA acquisition could mean to travelers.
"A Google search that I did for 'cheap airfares San Francisco-New York' generated 4,570,000 results in 0.33 seconds, but only produced a list of websites," he wrote. "That's not really the answer a traveler wants. This is where ITA will come in. By integrating ITA's QPX airfare search into its search engine, Google will be able to provide a user with more specific, actionable information, such as airlines, schedules, fares — and the websites that sell the tickets."
You would think that Google could provide something similar with its own impressive array of search algorithms. Travel, though, is not that easy, according to Harteveldt.
"Google described the process as 'daunting,' and they're right," he wrote. "So it's smarter for Google to buy than to build."
The iTunes of Travel?
Indeed, if the acquisition does go through, Google could do to travel planning and online purchasing what Apple did to the music industry with iTunes, said Rock Blanco, head of Travel GPA.
The current face of online travel, he said, is woefully outdated. "Expedia is nothing more than a mega-travel-agency, as they essentially deploy the sample out-dated travel-agency-centric model that has been in place since Thomas Cook made the first travel itinerary back in the 1800s," he told the E-Commerce Times. "All that Expedia offers is a less-than-sexy Web entrance to the same archaic means for conducting travel searches.
"Look at who feels threatened and you'll already have your answer to whether it is a good or bad thing for the consumer and providers of travel in general," he concluded.