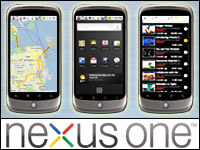 Google has taken two key steps to propel sales of its smartphone, the Nexus One. It has cut the early termination fee from US$350 to $150. It has also introduced customer support for the ordering and shipping processes.
However, these moves are not as expansive as some users would like. For one thing, T-Mobile's early termination fee, which is separate from Google's ETF, reportedly would still apply.
As for the customer support line, it should also be available for technical support — especially in light of the early glitches some customers experienced with the phone, Patrick Gilbert, president and CEO of 4SmartPhone, told the E-Commerce Times.
Pass the Customer
Google maintains that tech support should be provided by the manufacturer, HTC, but if HTC refers the customer to T-Mobile and vice versa, that leaves customers in the lurch, Gilbert said.
Google needs to make the extra effort in this regard because unlike a phone that is supplied or supported by a carrier, consumers cannot go to a local store for assistance if there is a problem, he said.
"Having any kind of line is improvement — but it is not enough."
The issue is more important when the gadget in question is an expensive smartphone, he continued. "They are more complex than standard phones, and users want to use them for complex tasks — with the expectation that they will get support for it."
Growing Pains
Some of these issues might have been expected — both by the companies involved and the customers. Becoming a hardware company is not easy, even for Google, said Azita Arvani of the Arvani Group.
"This is just part of Google's growing pains going from a mostly online software company to becoming a hardware company. Additionally, in the case of Nexus One, Google doesn't have complete control over the product, as it has to collaborate and coordinate with its partners," Arvani told the E-Commerce Times.
Google also has to re-orient the way it is used to doing business as an online company, she said.
For example, Google can continuously tweak its Web based software, such as Google Search or Docs, without users having to download anything; they may not even notice the changes. All it has to do is post changes to the user interface in some online help forum or in a blog post somewhere, she said.
In the case of the Nexus One, a fix to the software can still be downloaded wirelessly, but that has to be coordinated with all the parties involved — and Google is not used to collaboraiton.
Also, Google has been offering free services, for the most part, Arvani pointed out. "Users' expectations of customer support for free service are not very high. With Nexus, users pay a lot of money for the phone and for the service in addition to potentially getting hit by EFTs. Users will yell out loud if they pay a lot for a product and not get good customer support."
In short, it seems as though no one has taken a look at the experience from the user's perspective, she concluded. "HTC, T-Mobile, and Google have made some agreements and put out a product with an accompanying service — and the end-to-end user experience issues have fallen through the cracks."
Great Device
That is a shame, because the Nexus One is a great phone from a technical perspective, Gilbert said. "It is one of the best on the market. Certainly it is the closest to the iPhone, although I wouldn't call it an 'iPhone killer.'"
Certainly, it won't be until the customer and tech support issues are solved, he added.