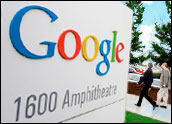 Google signaled its intention to go after enterprise users by announcing a partnership with a French firm that will help it deliver Google Apps as a Web-based service.
Capgemini, a major global provider of outsourced business technology, will now provide professional support for enterprises that adopt the Web-based desktop solutions found in Google Apps Premier Edition.
Adding Google software to Capgemini's portfolio will help it "capitalize on the rapid growth" of Software as a Service (SaaS) solutions, said the Paris-based company, which operates in 30 countries, employs about 75,000 people and reported 2006 revenues of about US$10 billion. Citing Gartner research, Capgemini said the SaaS market is predicted to grow 25 percent compounded annually through 2010.
Google Apps Premier Edition is a beefed-up version of the free Google Apps package. Designed for large enterprises and priced at $50 per user per year, it provides Web-based collaboration and communication applications including Google Docs and Spreadsheets, Gmail, Google Calendar, Google Talk and Start Page.
A Guiding Hand
The pairing will allow Capgemini to broaden its outsourced desktop offering which, it said, "encompasses the complete asset lifecycle from procurement, installation, deployment and management through to disposal." The company is already supporting more than a million desktop users worldwide.
SaaS differs significantly from "fat client" business applications requiring software to be installed on individual desktop PCs, or even "thin client" systems that centralize the applications on a company server and use simple terminals instead of full-fledged computers at the workstations. With SaaS, the applications are Web-based and externally hosted.
Nevertheless, there is a need for professional services to help large enterprises roll out SaaS packages, said Capgemini, asserting it has "considerable experience managing the challenges and opportunities of incorporating new applications into existing, complex IT infrastructures."
Voice of Experience
Companies can better benefit from the cost savings and other efficiencies provided by SaaS solutions if those implementations are handled by its experts, Capgemini said.
"With its highly regarded transition services, Capgemini can extend the value of Google Apps for large-scale enterprises by maximizing adoption and fostering real-time collaboration — even for mobile workers, partners and other user groups that were previously disconnected from corporate email and applications," said Capgemini.
To ensure it does the best job possible in helping companies adopt Google Apps Premier Edition, Capgemini said it has joined the Google Enterprise Professional program.
The partnership is a smart one that should benefit both companies, Nucleus Research analyst Rebecca Wettemann said.
Credibility for Google
"Certainly, Capgemini knows the enterprise space well," Wettemann told the E-Commerce Times. "It's a great opportunity for them to have another partner in the software space and Google recognizes they need those kinds of enterprise partners to be effective in the enterprise space and add credibility. So this is good news for both of them."
While Capgemini has significant experience supporting the traditional installed and licensed type of desktop applications, both it and Google are recognizing "the standardized desktop is not necessarily the most effective," said Wettemann. However, both also realize that large enterprises often need help from specialists, such as Capgemini, to "walk in and provide that global enterprise support" for SaaS adoptions, she added.
Google Enterprise Vice President and General Manager Dave Girouard cited the French company's "strong heritage providing technology and consulting services to large organizations" and said it will provide "tremendous support for organizations looking to benefit from Google's hosted services."
Not for Everyone
However, many large enterprises might never feel comfortable letting Google, or any other SaaS vendor, have control over hosting corporate data, said Chris Swenson, NPD's director of software industry analysis.
"Enterprises might be hesitant to move to Google apps," he told the E-Commerce Times. "You have to store all your docs on Google servers and I don't know too many companies that will do that. Maybe some churches, nonprofits and universities, where there are people who don't really care if the newsletter is stored on a Google server. But … enterprises, to varying degrees, will be hesitant."
The fact that sales of Microsoft Office 2007 were about double those of Office 2003 proves SaaS has a long hill to climb, he said.
"There is also a chance of user revolt," said Swenson. "People know how to use Office. They've been using it for years and there's a lot of learning that goes into that. You can't necessarily throw that out the window overnight … However, Google Apps is not necessarily an Office competitor. It can be a supplement. You can use both Office and Google Apps for your domain."