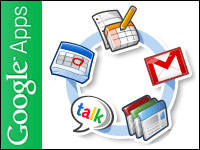 Google is adding 24/7 phone support for its Google Apps for Business product line — the first time since the apps launched in 2007.
It is a major step forward for Google, which has been pushing to place these apps on the desktop alongside — or even, hopefully, in place of — Microsoft's productivity offerings.
For the most part, customers have only been able to communicate with Google via email, according to Jocelyn Ding, vice president at Google Enterprise Operations. Phone service, she said, was limited to critical issues.
Now, small-, medium- and large-sized operations using these apps have access to the phone service for all issues affecting the core services.
Other support channels include a Web-based portal, online help forms, and online help center.
One of the drivers behind the phone service, Ding added, is a desire to bring its Google Apps for Business customer service satisfaction rating up to 95 percent. Currently, it is 80 percent for overall business customers and 90 percent for large business customers.
Steady Improvement
Google has been steadily adding functions to its Apps suite. Earlier this year, for example, Google enhanced its Google Docs product with a commenting system called "Discussions." With it, users are able to better collaborate on a work in progress.
However, Google has still faced an uphill battle trying to get its productivity suite accepted in the enterprise. This time last year, for instance, it filed a federal suit against the U.S. Department of the Interior, alleging that the agency inappropriately favored Microsoft with its requirements for a messaging platform.
The suit claimed Google Apps never stood a chance for the contract, valued at US$59 million over five years, because the request for quotations specially called for the platform to be part of the Microsoft Business Productivity Online Suite.
How Good?
In many ways Google has been playing catch-up since it launched its Business Apps, Laura DiDio, principal with ITIC, told the E-Commerce Times.
"Google Apps is only four years old, and its initial target audience was small businesses, which didn't have the expertise to handle their own productivity apps," she said.
Now, she said, Google is aggressively moving up the stack, and it needs a tech support organization that can rival Microsoft's tech support if it wants to make any kind of inroads.
Whether the addition of phone service will help it do will depend entirely on how good that phone support is, Didio said.
"Google can't offer phone service where someone takes a call and then gets back to you with a 'yeah, we are working on it.' Whoever answers the phone has to know what they are talking about," she explained.
That type of tech support is more common than companies would like, she said. "Typically tech support is more reactive than proactive."
And What About the SLA?
Google Apps for Business is available for $50 per user per year — a price that includes the technical support as well as a service level agreement. This promises applications will be available 99.9 percent of the time, another important nod to the requirements businesses have of their productivity suite vendors.
Here, too, Google must play catch-up, DiDio said. While 99.9 percent of uptime sounds good to the layperson, in reality that translates into 8.76 hours of unplanned downtime per year. "For most businesses that is unacceptable, especially if the apps are crucial or core to a mission," she said.