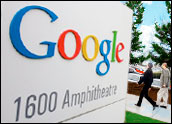 Google is reportedly in talks with major retailers to launch a shipping service that would provide same-day delivery.
The search engine giant is talking with retailers such as Macy's, The Gap and Office Max to create partnerships that would offer users speedier shipping, according to The Wall Street Journal. If an online shopper bought a product from Macy's, for example, Google would guarantee that the item be shipped later that day.
Quick delivery is a way that Google could compete aggressively with e-tailers such as Amazon, whose Prime membership already offers members fast, free shipping for an annual fee. The service would be available later in the 2012 fiscal year, perhaps launching a pilot in the San Francisco Bay Area to begin.
No announcement has been made yet about an agreement, and Google did not return the E-Commerce Times' request for comment.
Google vs. Amazon
Since online retailer Amazon has become the first stop of so many online shoppers, Google has been losing out on ads and page view that come when a potential buyer goes straight to Amazon rather than searches first via Google's engine.
Since Amazon already has a sprawling infrastructure in place, though, the retail giant will be hard to conquer. Though Google has made some inroads in e-commerce, such as acquiring an electronic shopping patent, developing the NFC-powered Google Wallet payment system and enhancing Google Shopping, Amazon has years of experience and a great deal of customer loyalty on the search engine.
"Amazon's control of the customer experience remains a key advantage, and Google's Wallet and cart functionality remains nascent," Shawn Milne, analyst at Janney Montgomery Scott told the E-Commerce Times.
The search giant might have to rely on speedy shipping to gain any competitive edge over Amazon.
"The most important thing about e-commerce, and one of the biggest problems, is how fast you can get it to my place. Amazon Prime allows you to do that quickly, but Google is saying we can do that by the end of the day, so they're trying to cut the shipping cost for everyone and make it more efficient and make customers happy," Sameet Sinha, analyst at B. Riley & Co., told the E-Commerce Times.
Expand, Not Compete
Besides faster delivery, Google might try to take steps to change the online transaction process rather than directly compete with the established Amazon.
An Amazon Prime membership runs US$79 per year and offers free two-day shipping on most items, but it also combines offerings with other Amazon entities — members get an unlimited stream of movies and TV shows and free loaner e-books, among other perks.
Google, too, wants to streamline its services, but just like Amazon uses its established retail offerings to enhance the Amazon Prime membership, Google wants to play its main strength — search — to expand the e-commerce business model.
With the slow but steady rise of Google's NFC-powered digital wallet and payment system, the company is making steps toward controlling the three main points of online transactions.
"Google, until now, has been relying on search. At this point, they can keep track of what's going on, they know what people are buying. So they're thinking, wouldn't it be great if people are using us to search, using us as a payment service and then using the delivery service? All of that from Google is really closing the hole in e-commerce and taking the whole process to the next level," said Sinha.