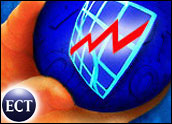 Sales of personal computers continued their growth trends in the first quarter despite the U.S. economic slowdown, according to studies released simultaneously by the Gartner and IDC research firms.
Notebook sales are driving the PC market worldwide, according to the reports, and there are sharper PC sales in developing markets, such as India and the Asia-Pacific region, than in the U.S.
The numbers from the two studies differ somewhat, but the findings are parallel in general. For example, IDC notes that first-quarter sales increased 3.5 percent in the U.S. and 14.6 percent globally year-on-year; Gartner says there was growth of 3 percent in the U.S. and 12.3 percent worldwide.
Weaker in US but Not Down
"The U.S. struggled a bit, but the numbers didn't go down," Bob O'Donnell, IDC's vice president for clients and displays, told the E-Commerce Times. "Sales were lower than we expected, but the U.S. is getting to be a smaller and smaller portion of the total worldwide market. Even if the U.S. continues to have issues, there's still plenty of upside worldwide for PCs. We saw Europe, India and Asia come in very strong."
The U.S.'s share of the worldwide market fell more than 2 points to 23 percent when compared with the 2007 first quarter, according to IDC.
Gartner's study result of 3 percent sales increase for the U.S. was in line with forecasts, noted Mika Kitagawa, principal research analyst for the firm.
"For the U.S. market, its shipment growth was something we expected," she told the E-Commerce Times. "The price pressure was much greater than we expected. I think probably that price cuts were probably catching up with shipment volume."
Notebook Sales
Portability and the trend of moving from one computer per household to one notebook per person are behind the strength of notebook sales, noted IDC.
"The PC market is still very healthy, and I think a good part of that is that we're seeing sort of a rethink going on — particularly on the consumer side — with notebooks becoming personal items," O'Donnell said. "All of that opens up your market. Each individual needs a PC, instead of each household."
However, notebooks didn't spike in popularity overnight. "What we saw this quarter is even more and more of that trend, and you're seeing vendors respond by offering different models and different colors; it's sort of a personal-statement device," he commented.
Laptop sales are especially brisk in developing countries, where many consumers' first computer purchase is a notebook, O'Donnell pointed out.
Dell Increases Its Lead
In the vendor sector, HP kept its No. 1 position among global PC suppliers, with a 19.1 percent share, up from 18.6 percent at the same point last year, according to IDC. Gartner estimated HP's pace-setting market share was 18.3 percent, up from 17.5 percent a year ago.
In the U.S., Dell increased its market lead by 15.7 percent, with a 31.4 percent market share, compared with 27.9 percent a year ago, according to Gartner. No 2 HP slipped 0.2 percent year on year, to a 25 percent share of the U.S. market.
"Part of Dell's gain is that they have expanded business in retail," Kitagawa said. "HP's growth is quite good in the Indian, Latin American and Asian markets, but their results in the U.S. were one of their worst since 2003."
Gartner found shipments to the Asian and Latin American markets rose 19 percent each. Excessive inventories in the U.S. force HP to slow its shipments there, Kitagawa noted.
Taiwan-based Acer enjoyed healthy global growth but endured a 20 percent drop in U.S. shipments for the quarter when compared with the Gateway consumer and total Acer shipments from the same period last year, according to IDC. Most of the decline was due to a weakening in Acer-manufactured Gateway-branded units, the research firm notes.
Lenovo saw shipments to the Asia/Pacific region as a big driver in its 21 percent quarterly growth, IDC says. Also, Toshiba, which is making a big push to notebooks, saw 20.6 percent growth in shipments year-on-year.
Apple's Fast Growth
Apple enjoyed the fastest year-on-year growth, with a 32.5 percent gain, to rank No. 4 in the world with a 6.6 percent market share, according to Gartner. IDC's numbers show Apple with a 6 percent share of the U.S. market and a fourth-place spot, but it is not in the world's top five.
"Apple is doing very well but — I'll be honest — the numbers we put out yesterday are all speculation because Apple refuses to provide any guidance to anyone," O'Donnell said. "It's a smart guess, but we ultimately don't know."
When Apple releases its first-quarter results next week, analysts will have a better handle on its position, he added. "My sense is all the signs point to them continuing to be on a very strong roll."