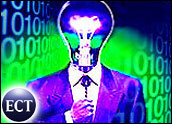 If you build it — and tell enough people about it –they will come, and hopefully buy.
Throngs of portals and e-commerce sites during thedot-com era embraced this mindset, and treated us toan unprecedented branding blitz. Need I remind you of Super Bowl XXXIV?
As the dot-com bubble deflated, however, those Web sites thathad not vaporized entirely got busy and slapped together their own versions of Plan B, in the hopes of scaring up some returns for their bag-packing investors.
Shoestring budgets have all but silenced shotgun messaging. And the hard lessons ofanemic user adoption have been learned. Now what?
Well, one consequence might be that Joe Consumer never hears of the newest but most successful technology companies, because those companies are no longer vying for shares of Joe's mind. They're hard at work far below the radar, inserting value behind the scenes and getting paid for it.
Capital-starved, and frantically seeking a new business problem to solve, these survivalists laid struggling brands to rest and pursued more economical supporting roles.
Pride vs. Profits
Look at Beyond.com. It went to market in 1994 as Software.net, bullish on brand and eager to draw customers to its software shopping site. The company has since shifted gears and started to focus onits eStores program, which provides technology and support services to other online stores.
Or Mobshop.com. Once a business-to-business (B2B) marketplace for industrial goods, the company is now an application serviceprovider (ASP), enabling corporations and other marketplaces with e-procurement software.
Bye bye, brand. Hello, profitability — or at least a clearer path to it.
Narrow Niches
Very few, if any, startups will get funding these days with a revenue model that depends on brand awareness among consumers. It's just too expensive.
So the ones that do get funding, and gain traction,may never grace your TV screen or Web browser.
Preemptive market research and segmentation will allow new companies to aim their marketing efforts more accurately at smaller niches of customers. So, if youdon't need to know about a company, chances are, you won't.
Backstage Players
Software companies like Kenamea operatebehind the scenes of Internet applications and mightadd tremendous value to e-commerce.
Founded in 1999 and C-round funded in April 2001, Kenamea offers software that allows companies to deploy self-contained applications — not just Webpages — at the end-user level.
To be sure, Kenamea's corporate identity doesn't lenditself well to a sock puppet mascot. But that's okay.
Early Birds
Kenamea, an enabler, will never be a household brand. But its products catalyze commerce. If analyst depictions of Internet evolution are accurate, Kenamea could be a big winner. E-commerce may be conducted entirely with these kinds of "extendedapplications" by the middle of this decade.
Competing in this arena are other companies like Altio and Droplets. It's unglamorous work, but somebody will do it, and get paid well for it.
Don't Mind Me
A set roster of established online and multichannel players will enjoy the e-commerce spotlight for a while, so the role of enabler will be a keyopportunity area in upcoming months.
Because the companies with mindshare are always looking for ways to better serve their customers, lesser-known service firms that help industry leaders conduct e-commerce better, faster, or smarter will be rewarded.
These enabling companies may never claim more than an ounceof your consciousness, but their success doesn't depend on it.
What do you think? Let's talk about it.
---
Note:
The opinions expressed by our columnists are their own and do not necessarily reflect the views of the E-Commerce Times or its management.
---