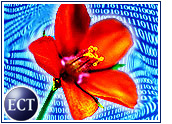 FTD.com (Nasdaq: EFTD), which sells flowers and gifts over the Internet and by telephone, said Tuesday that strong online sales led the company to its first full-year profit and are likely to contribute to solid growth in the year ahead.
Internet orders accounted for about 86 percent of the company's business in the latest quarter, up from 78 percent in the year-earlier quarter, as thecompany focused on marketing its Internet services.
For the fourth quarter ended June 30th, the Downers Grove, Illinois-based e-tailer reported a 22 percent year-over-year increase in revenue to US$43.5 million. Revenue for the year rose 33 percent over last year, to $130.3 million.
Net income for the quarter totaled $3.6 million, or 8 cents per share, compared with a loss of $11 million, or 23 cents, in the same period last year. For the year as a whole, net income totaled $8.5 million, or 18 cents per share, against a loss of $34.6 million, or 75 cents.
Order Page
Orders taken during the fourth quarter totaled about 690,000, up from 570,000 a year earlier. The average value of each order rose to $57.25 from $56.06.
Sales of specialty gifts soared 119 percent year-over-year, making up 10.4 percent of total orders in the fourth quarter, up from 5.7 percent a year earlier.
The Road Ahead
"Despite a weakened economy, FTD.com anticipates continued strong revenue growth and increasing profitability in fiscal year 2002," said president andchief executive officer Michael Soenen.
FTD.com said it expects revenue to grow at a 15 to 20 percent rate in the upcoming fiscal year, with earnings per share growing 20 to 30 percent.
"We expect that this will be achieved primarily by expanding existing marketingpartnerships, aggressively securing new marketing partners and enhancing ourcurrent customer acquisition and retention programs," Soenen said.
Soenen added that the company will also try to keep expenses under control.
Net Flowers Sector
The online gifts market has proven over time to be lucrative. A Forrester Research report released in June found that consumers who buy gifts online tend to make and spend more money than non-gift buyers.
Forrester predicted that by 2005, Americans will be spend $36 billion on online gift purchases. FTD.com is positioning itself to capitalize on that growth.
"In addition to pursuing our existing growth opportunities, FTD.com will continue to explore partnerships, strategic alliances and acquisition candidates that will allowthe company to leverage its business model and expand its market presence," Soenen said.
FTD.com provides same-day delivery service to virtually the entire United States, using a network of independent florists.