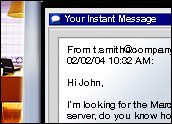 FrontBridge Technologies today announced the acquisition of MessageRite to broaden the company's service portfolio to include e-mail and instant message archiving. FrontBridge's existing technologies include inbox management tools such as perimeter-based spam filtering, virus scanning, secure e-mail, policy enforcement and disaster recovery.
Compliance regulations affecting many industries, such as Sarbanes-Oxley, require that electronic business communications, including e-mail and instant-messaging traffic, be preserved and produced upon demand to various regulatory agencies.
"Our vision is to deliver the broadest range of hosted services that address the complete message management needs of our enterprise customers," said Steve Jillings, president and CEO of FrontBridge Technologies. "This acquisition, combined with the announcement today of our fully managed secure e-mail service, significantly changes the messaging market landscape, creating a clear technology leader in the managed service provider market."
The task of managing a message archive in-house has proven complicated and expensive, with significant costs associated with managing an on-premise infrastructure that meets strict federal guidelines. Through the acquisition of MessageRite, FrontBridge hopes to offer corporations a complete outsourced service for message archiving and retrieval designed to eliminate the need for additional infrastructure investment.
MessageRite's technology intercepts all internal and external messages and stores an indexed copy of each message in a secure offsite message archive center. Through a secure interface, administrators and compliance officers can search and retrieve messages within their archive as needed.